October 22, 2013
Posted by:

admin

Category:

Blog
The retail business has been more or less the same over the past few decades. Yes, there have been a few advancements like barcode scanners and online shopping, but they haven't really helped in taking the industry to another level. Augmented Reality (AR) is set to change all that.
There's much talk about Augmented Reality, but how does it work? AR is a way to integrate the digital world with your physical environment. It uses pictures, audio, video, 3D models and shapes to transport the digital experience into the physical world. In simple terms it enables you to access the digital world and experience it in your own, with just a PC, tablet or even your smartphone.
Sounds like sci-fi, doesn't it? It was, just that a few years ago. First introduced in 'The Master Key' by Lyman Frank Baum (famous for the Wizard of Oz), where the lead character wears a pair of glasses which enable him to see if a person is good or bad.
But that was over a century ago. Now AR has come a long way and is revolutionizing business as we know it. Retailers in particular are using it to create new, innovative and interactive customer experiences. AR let's you engage your customer at a whole new level.
AR enables you to enter your customers' physical environment without even being there. Where online shopping carried mistrust leading to returns, exchanges or refunds, AR helps customers experience your products like they would if they visited your store.
Customers often express their regret from impulse buying and the inconvenience of going back to the store to return clothing that doesn't fit, or furniture that doesn't match. This can all be taken care of by AR.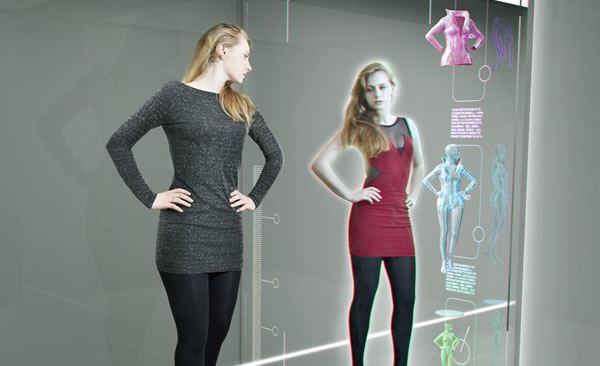 Innovations have been made where customers can experience your products in various ranges offered, right from a tablet or smartphone. Products like Tesco's "Magic Mirror" and "hudl" tablet let users try on clothing, in different colors and sizes which makes it easier for them to make their decisions. Even if a product is unavailable at the physical store, they can order it for delivery or next day pick up.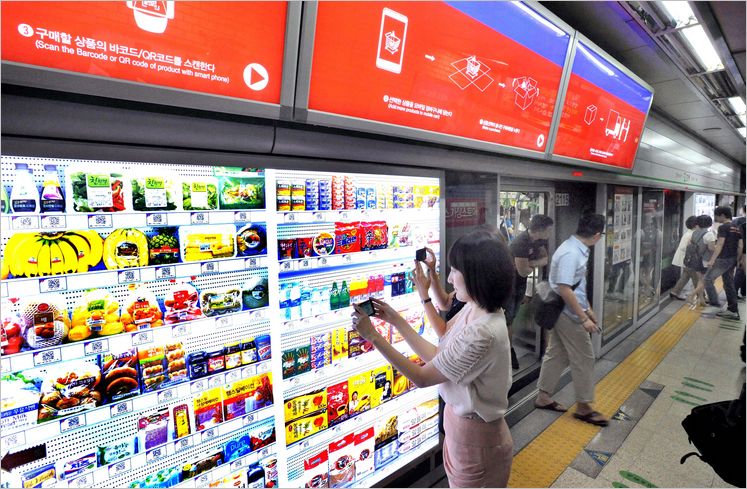 We all know grocery shopping is a tedious task to fit into our daily lives. Tesco has also taken the edge over its competitors in this field by introducing 'virtual supermarkets.' This innovation places virtual products in places where customers frequently visit in their daily routines, for example, subway stations. Tesco placed huge displays portraying the look of a supermarket and showing the products as if they were on shelves with their barcodes and prices mentioned below. Shopper can just scan the barcodes and add them to their cart for delivery.



Customers looking to redecorate are also spared from the tasking process of moving furniture and measuring space. IKEA has launched its AR app which lets customers make use of their online catalogue in a whole new way. They can select items from the catalogue and overlay them to the physical space where they intend to place them. Customers can get more attached to products this way by seeing them in their physical reality which is more likely for them to buy IKEA's products.
AR can also be a great marketing tool. It fulfils our need to share our lives. With social media, we've started sharing every detail from what we eat to what we wear. AR lets customers share your products with friends and family and ask for feedback even before they buy them. In this way they can become your product ambassadors among their peer group.
We can expect AR technology to incorporate human senses in the coming years as well. AR interfaces will be able to let customers touch, feel, smell and even taste products before they buy. Further innovations lead to customers' past shopping history – digital or physical – being pulled up as they are detected entering a store or even passing by and personalized product recommendations can be based on that data.
Augmented Reality has come a long way from Lyman Frank Baum's The Master Key and is now ready to lead a retail revolution. Just imagine how flabbergasted a customer will feel to actually try on their favorite brands and even share that experience with their friends right there. This implies to the fact that Augmented Reality is not only a promise of a fairy tale experience for the customer but also a revolutionary way of marketing and promotion for your business. If you're a retailer and believe in giving your customer a fantastic experience of futuristic shopping, how will you leverage the best in store of Augmented reality for your business?