September 20, 2013
Posted by:

admin

Category:

Blog

Businesses need to take their planning to the next level and adopt technologies that transform raw data into meaningful and useful information for business purposes. A solution that can handle 'BIG DATA' literally and help identify and develop new opportunities. This software should be able to provide a competitive market advantage and long-term stability.The answer is: Business Intelligence. BI technologies provide historical, current and predictive views of business operations and have a variety of functionalities, as shown in the figure below: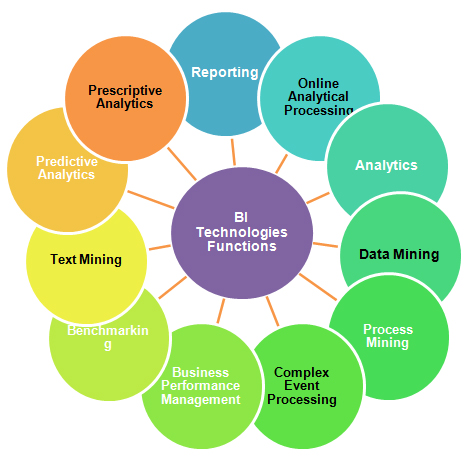 For better decision-making, Businesses (big or small) need to have a bridge in-between ERP and the Desktop. Business intelligence process creates an environment for just that, and delivers real-time information on the interactive Dashboards, and enhances the reporting capabilities and thus better decision-making. In order to make valuable business decisions, companies need to take the following steps:



Information that can help companies make better decisions passes through the database of their JD Edwards software constantly, but utilizing that information to the company's advantage had become a difficult task. Business intelligence is very much a cultural phenomenon, moving away from gut-feel strategic choices and moving toward an evidence-driven rational approach to business.
Companies worldwide face increased pressure to maintain profitability despite a weak economy. Consequently, companies need to manage their business operations as cost-effectively as possible so they meet their revenue and profitability targets. Oracle Business Intelligence Applications deliver maximum value from existing IT investments by ensuring that pervasive insight helps drive all customer, supplier, and workforce decisions, resulting in lower costs, increased revenue, and greater profitability.

Oracle Business Intelligence Applications for Oracle's JD Edwards EnterpriseOne are powerful, prebuilt solutions that enable organizations to implement and integrate more quickly, with less risk, and at a fraction of the cost required to build traditional BI solutions. The figure below talks about the steps involved in delivering the best solution using Business Intelligence Implementation.