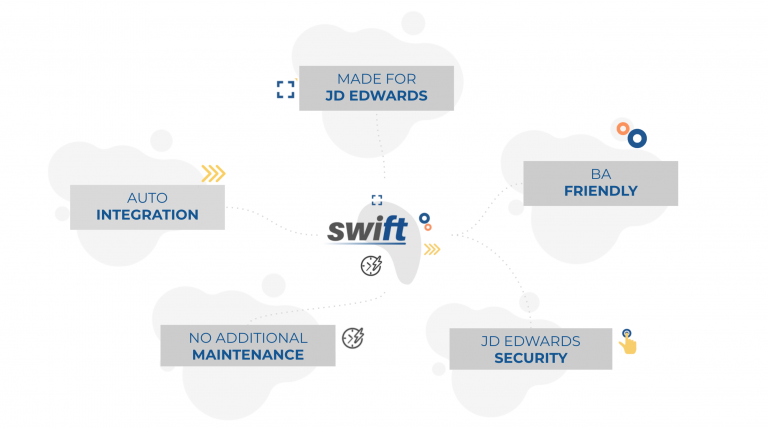 JD Edwards Low Code, No Code App Automation
To respond to the many challenges thrown by Covid, companies are having to re-assess their strategies and business processes every few weeks, instead of few quarters and years. What this means is the life-time for any business process and the app that supports it is now much shorter.
This makes it almost impossible for the line-of-business (LOB) leaders to wait for the business analysts to spec out the business processes (which might not even stick around for more than a month) and for the dev team (internal OR external) to develop an application over several months and burning through a few hundred thousand dollars.
Benefits of Low Code No Code App Automation
Following are some of the key benefits of a low-code, no-code app automation: 
Productivity




Low-Code, No-Code results in the increase in productivity by requiring less effort to create the business apps.

Reduced need for Specialist Skills
Instead of requiring multiple skills ranging from architecture, mobile app development, web services and database skills, only a strong functional knowledge is required to build the apps.
Simplification of Tooling
The number of tools required is much more simplified.
Time to Market & Innovation Agility
But the biggest benefit is the reduction of Time To Market by increasing the innovation agility. The time between the business feels a need for an app and the time when you can put in the hands of the business users a fully functional and integrated app can be a game-changer.
Trade Off
with conventional

Low Code No Code App Automation

Conventionally the LC/NC platforms present a trade-off between how comprehensive apps you can create vs how business analyst friendly the app design is. As the Complexity of the app increases, so does the "Total Cost of Ownership" as it requires developers to be involved. 
With the involvement of the developers, this resorts back to the conventional development lifecycle and the challenges, delays and the costs associated with it. 
Total Cost of Ownership
starts stacking up
The Total Cost of Ownership (TCO) starts stacking up. 
Starting with the development cost across multiple skills sets ranging from mobile app development, web development, back-end development and then moving on to the integration cost requiring web-services skillsets and inherent challenges of integrating multiple disparate applications across non-standard APIs. Also, the need for providing robust security across the integration points for different applications, the security cost becomes another major consideration. 
Finally the need for ongoing maintenance of the source-code and DevOps means an ongoing maintenance cost. After all these have been accounted for, the subscription cost of the underlying development platform is almost always the least costly in the conventional low-code, no-code cost equation.
Lack of Innovation Agility
= Real Opportunity Cost
The REAL Total Cost of Ownership can never be determined unless you consider The Opportunity Cost caused by the overall Lack of Innovation Agility that a typical software development lifecycle entails. This is often overlooked when trying to determine the TCO for your automation initiatives. 
In our opinion, this is not just the BIGGEST cost contributor but even a detriment for most innovation initiatives within the enterprise!
Going through a typical development cycle means, that each time the business has a need for automation, they'll have to make time from their core business to create functional specs which will need to go through multiple review cycles back n forth between the Line of Business users where the need arose, the Business Analysts who need to spec the needs, and the Development team that needs to provide estimates, technical design, prototype and develop the apps, the DevOps and System Admin that needs to deploy and provision the apps and the Support Team that needs to maintain them.
The very nature of this back-n-forth kills the enterprise agility to move forward with innovative ideas that are a life-line for any businesses now and into the future.
Swift
is the only JDE Low Code No Code App Automation tool

in the Business Analyst Zone

This is exactly the reason most low code, no code tools don't live up to their promise as they still follow the same development cycle with a fancy tool on top of them. In order to provide real and modern app automation, the tool should be in what we call "Business Analyst Zone" as opposed to most of the low-code, no-code tools which are still in the "Developer Zone". 
This is precisely why we've created Swift – an app automation platform that is in the Business Analyst Zone! Swift allows any power user or business analyst to create highly functional and user-friendly mobile, tablet and web apps without having to spec them and without writing a single line of code. 
This results in an extreme agility in how the applications are conceived, designed, rolled out and even disposed.
Swift is for "App Automation"
what JDE Orchestrator is for "Process Automation"
Just like how JDE Orchestrator adds "process automation" super-powers to your Business Analysts, Swift now adds "app automation" super-powers in their hands. When Orchestrator was first introduced, there already were multiple enterprise BPM and middleware tools available from across all sorts of vendors, but they never lived up to the "paradigm shift" they were supposed to bring about towards "enterprise agility".
Developers had to still be involved to write complex mediators, meta-data translators and connectors, web-services, meta-data mappings and more. When Orchestrator was introduced, it allowed the BAs to instantly get it, since it was already "business contextualized" with their core ERP with all pre-mapping of the meta-data and functional processes that were mapped by them created instant business value.
This is exactly the same principle on how Swift provides the highly "business-contextualized" mobile, tablet and web app automation to the business analysts who only need to concentrate on what functionally they are trying to achieve without having to worry about the integrations, meta-data mappings, caching, exception handling, offline capabilities, e-Signatures, QR Code/ Bar-code scanning, location tracking and other device capabilities, the layouts OR even the user-experience. 
All of that gets taken care by Swift platform. 
Swift is for JDE app automation, what Orchestrator is for JDE process automation.
Swift is a "game-changer"
for companies using JD Edwards as their core ERP
Swift is an absolute "game-changer" on how the mobile, tablet and web apps can be built and rolled out especially if you use JD Edwards as your core ERP. Here are some of the game-changing capabilities Swift brings to the table: