Ephlux has always been approached over the years by numerous seasoned, mid-level and fresh JD Edwards consultants in search of our AIS Integration Training that has helped them integrate Application Interface Services (AIS) to 3rd party applications, enterprise cloud apps. We couldn't be more than happy to announce the launch of our Application Interface Services (AIS) Training that guarantees proven results!
JD Edwards AIS Integration Developer Learning Path | EPX-JDE-AIS–01
Potential Candidates
JD Edwards developers who wish to enhance their skill set and learn advance integration techniques with JD Edwards using AIS.
Qualifications (Must have)
Proficient with JD Edwards architecture
Must have 2 years of experiance in Techno-functional role
Qualifications (Optional)
Academic introduction for Java or Java Script
Understand of JD Edwards BSSV Services
Knowledge about REST & JSON based services
Duration
6 Days ( 1 hours per day )
Note: Based on our experience so far training some busy JD Edwards consultants, we've felt a need to split up the training into more days so that the consultants can balance their customer projects with the training. This helps the consultants have enough time to balance their current engagements along with ample time to practice the lab exercises.
$199
[Limited Time Offer]
Buy Now
Registration | Fee Structure
We prefer customizing the training based on your specific needs. Please fill the form below and we'll get in touch to help you customize the training that best suits your needs and budget.

Related Trainings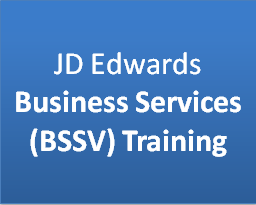 +1.866.788.4185
training@ephlux.com
$199
[Limited Time Offer]
About Us
Ephlux is an agile consulting and technology services company that provides premium-quality application, integration and marketing services that help our customers, employees and partners become and remain the leaders of change. We specialize in designing and developing mobile applications, social media marketing solutions and web applications.