September 4, 2009
Posted by:

admin

Categories:

Blog, Career Growth, Human Resource Management, Relationship management
Women play a significant role in the corporate world, despite its native resistance to this gender. Females, by and large, are working in every field with men and are making valuable contributions towards the overall success of organizations, over all major industry spheres. However, we still find a greater proportion of men representing the corporate world in important positions as compare to females, even though they are equally competent in accomplishing challenges.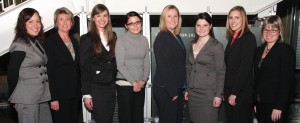 Even in this situation, women are doing well for themselves by attaining managerial positions in organizations and they are progressing well in their career ladder.
Besides this, they are getting more into business ownership. According to statistics, "Between 1997 and 2004, the estimated growth rate in the number of women-owned firms was nearly twice that of all firms (17% vs. 9%), employment expanded at twice the rate of all firms (24% vs. 12%), and estimated revenues kept pace with all firms (39% vs. 34%)"
Center for Women's Business Research, 2005
However, there are certain factors that hamper their growth within the organization. Firstly, work life balance which impacts their advancement and secondly, gender bias. Everyone wants to work in an environment where their contributions are respected and they are provided with equal opportunities to excel further in their respective careers. But generally, females are provided with lesser opportunities to grow and they usually encounter issues of gender bias on a regular basis.
How do you perceive women's presence and contributions in the corporate world? What can they do to further improve their performance? Furthermore how can issues like gender bias be addressed?