November 12, 2015
Posted by:

admin

Categories:

Blog, Webinars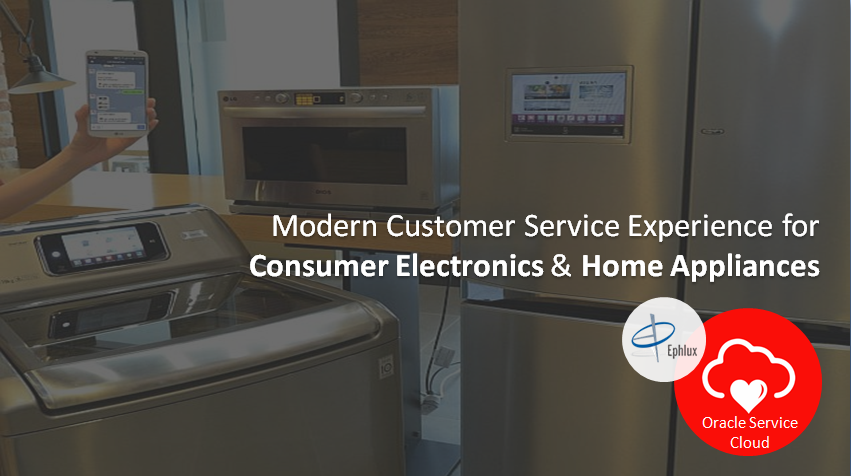 Webinar: Oracle Service Cloud for Consumer Electronics & Home Appliances – Nov 19th – 11 am pacific

80% of your future profits come from your existing customers and 86% of them stop doing business with a company after one bad experience. Consumer Electronics and Home Appliances industry is no different. In this webinar we demonstrate how Oracle Service Cloud can be used by Consumer Electronics & Home Appliances industry to WOW their customers across the customer journey.
What does your customer do when the home appliance breaks down?
Tries to search for the fix on the internet esp. YouTube
Shares with friends n family on Social Networks
Tries to find the Knowledgebase on your website on her mobile
Tries to locate your LIVE Chat support
Tries to find your contact information
Drops you an email
Calls your call center
Never wants to repeat her story
Customers hate call centers and 75% of them contact you via 3 or more channels
Customers hate calling call centers – still the majority ends up frustrating themselves and you on your your call center – this happens when you don't have a cross-channel service center that spans across all the channels and devices through the customer journey, forcing the customers to repeat their painful story each time they interact with you on a channel – this becomes alarming when you realize that 75% of customers try to contact you via 3 or more of these channels.
Introducing Oracle Service Cloud for Consumer Electronics & Home Appliances – a cloud-based service center that spans across the channels, devices, service centers, customer locations and integrates to your on-prem ERP.
Watch the LIVE broadcast OR the recorded video of the webinar
Webinar Details:
Join the webinar here – Date/Time: Thurs, Nov 19th (11 am pacific)
Not available at this time? Join anyways – you'll get the recorded session for the webinar sent over to you to watch whenever you get time.
We would love to hear your feedback on the webinar hangout and also some of the challenges that you're facing with customer experience for your consumer electronics and home appliances business. We would love to hear your challenges and help you out:
---
---
About M. Ali Nasim
Ali has around 14 years of experience, spanning areas of strategic technology management, product and business development for the US, UK, Middle East and South Asia across telecom, hospitality, healthcare and other verticals.
At Ephlux, Ali is currently focused on CX (Customer Experience) platforms and consulting, SOA, enterprise mobility, digital marketing and integration of ERPs, CRMs and EMRs with customer-centric mobile, social, e-commerce, in-venue and other digital touch-points.
Ali and his company Ephlux has worked on customer experience, integration and mobility projects for large enterprises and start-ups alike, including PHILIPS, Disney, Gibson Guitars, Johnson & Johnson, IKEA and many more.
Ali can be reached out on his twitter handle @m_ali_nasim and on his email at ali.nasim@ephlux.com
---
Ephlux | Oracle | Customer Experience


Learn how Ephlux and Oracle are together helping enterprises provide engaging customer experiences at all touchpoints, expand customer base, reduce churn, and monetize customer relationships—increasing customer spend and brand's customer-centricity.