Tupperware – an industry leader – relies on Ephlux for global integrations of its complex 'Order 2 Cash' Sales processes between their CRM applications and JD Edwards including Shipment Updates, Order Status, Stock Updates, RMA, BOM, Distributor Network Account Reconciliations and more.
Ephlux helped them deliver these complex requirements, leveraging our strong experience and success stories, working with equally complex integrations with other large customers.
Tupperware continues to innovate for the benefit of people and our planet. A leading global marketer of innovative, premium products across multiple brands, Tupperware Brands Corporation utilizes a relationship-based selling method through an independent sales force of 3 million around the world.
Problem
Tupperware, as part of their global integration program, was working on Order 2 Cash project to provide integrated solutions between their front end global CRM applications esp. Jenkon used by their millions of affiliates and their JD Edwards O2C processes.
Tupperware was in search of a world-class partner with strong expertise on JD Edwards integration technologies including Business Services (BSSVs) and latest digital transformation toolsets including AIS and JDE Orchestrator.
They needed a partner who could not just provide quick-wins with their immediate integration needs, but can be a long-term strategic partner for their global integration roadmap across different countries and geographical markets.
Solution
Ephlux brought to the table its strong expertise and experience with complex Order 2 Cash integrations ranging from complex Sales Order Entry, Configure-Price-Quote, Order Processing, Inventory Synchronization and Order Tracking.
Ephlux put together a specialized team of JD Edwards integration specialists to align, plan and execute with Tupperware's Global project team. The functional specs of the common needs across different geographies were initially analyzed to extract the common integration scenarios.
Once that was done, the team then focused on the design and development for one of the initial markets to complete the development and testing of the integration scenarios. The plan is to replicate the success from the first market across multiple countries including the ones in Europe, Asia Pacific, Latin America and more.
Customer Testimonial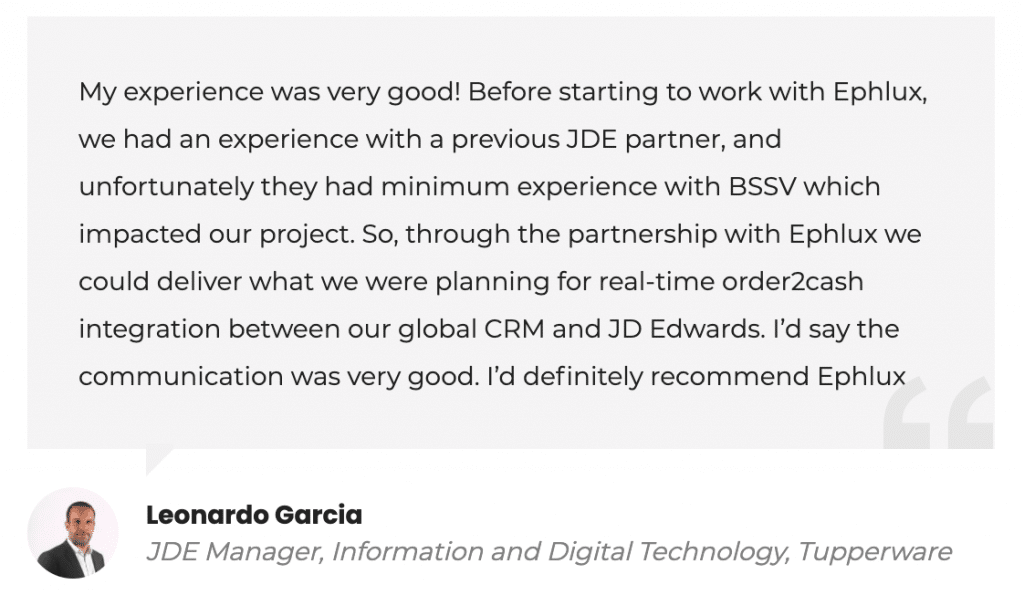 Functional Overview
Item Master from JDE to CRM Interface
Sales Order from CRM to JDE Interface
BOM from JDE to CRM Interface
Shipment Confirmation Interface
Order Status Interface
Stock Update Interface
RMA Interface
Affiliate Account Statement from JDE to CRM
Technical Overview
Business Services (BSSVs)
Tupperware CRM API integration
Data Marshaling and Business Logic
---
Interested In Learning More?
Get in touch and schedule an appointment today with one of our consultants: