Combine the power and simplicity of Swift with the intelligence of ChatGPT and robustness of JD Edwards E1
Using the power and simplicity of Swift with the intelligence of ChatGPT and robustness of JD Edwards E1
How powerful would it be to combine the business intelligence of your ERP, industry intelligence of ChatGPT and human intelligence of your workforce, all within one seamless user-experience on mobile, tablet, scanner and web?
We are glad to annouce that we've the initial version of Swift ChatGPT component now available for early adopters.
You can simply drag-drop ChatGPT component on any Swift View/Action Form.
Configure it to pull meta-data from your JD Edwards E1 forms, tables or orchestrations.
As a Business Analyst / App Designer use the ChatGPT Query Builder to build a dynamic, parameterized query.
Provide insights fully parameterized based on E1 meta-deta to the users right before they make decisions and take action all within a highly intuitive and seamless user-experience.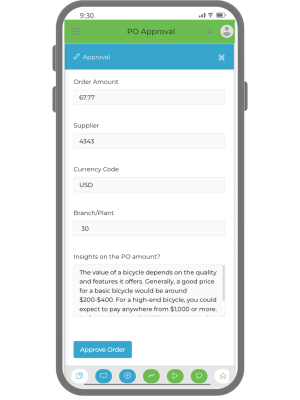 How Swift provides the game-changing capability?
Most low-code, no-code platforms evolved as the next-phase of the original development tools, built a decade or two ago, and still follow the same development mindset in their DNA. Although they've tried their best to make them easy for the business analysts and the users, majority have fallen short.
To bring about the real paradigm shift and benefits of a low-code/no-code platform, a grounds-up rethinking was required to work at a meta-data level, and incorporate at the core of the architecture, the latest and greatest advancements in web and mobile technologies, integration, security, analytics and cloud-based server frameworks. 
Get Started
 with
Swift
Sign up for Swift Start and get a fully functional Swift instance, pre-integrated with a JD Edwards demo instance. You can explore the pre-built apps available on Swift App Store, customize them or create your own from scratch and share them with your peers.
Join Swift

Online Training

Join us for the Online Training and learn to design, build, deploy and launch mobile and web apps in a matter of minutes, and how they are automatically integrated with JDE applications, orchestrations and databases without the need to write a single line of code.
Get

Swift

Certification

Swift Certified Consultants are responsible for designing, developing, launching, extending and managing Swift applications. Join some of the most innovative and reputed JDE professionals in the industry by getting your Swift functional or admin certifications.