What's new in Swift Release 23 in October?
Swift Release 23 – October features the following capabilities:
"We are thrilled to present the latest release notes for the month of Oct, 2023. In this update, we bring you a range of exciting features designed to enhance user experiences and streamline your app design process."

Read on to discover the highlights of this release and unlock new possibilities for your app development journey.
Find & Browse Form (FBF) Conditional Formatting
With this release, users are now empowered with greater control and customization options:
Selective Data Visibility: Administrators now have the power to selectively hide specific data from end-users through conditional formatting. This allows you to tailor the displayed information to precisely match your unique needs and privacy requirements.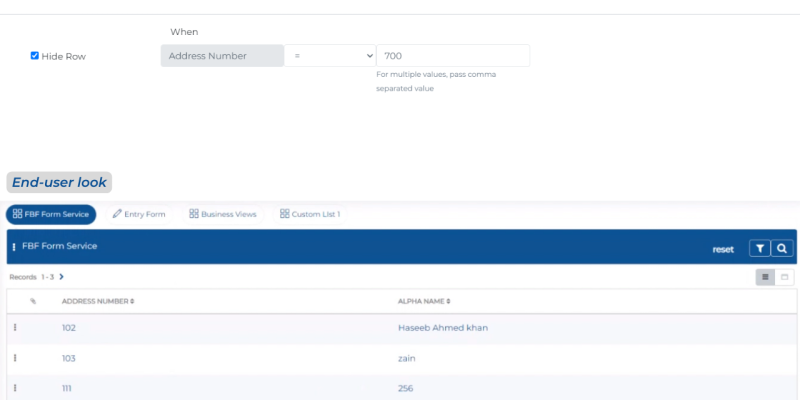 Color Customization: Administrators can also personalize the appearance of rows by changing their colors. This feature enables you to create a visually engaging and intuitive user experience, ultimately improving data organization and comprehension.
With FBF Conditional Formatting, you have the tools you need to fine-tune your platform's presentation and make data management even more efficient and user-friendly.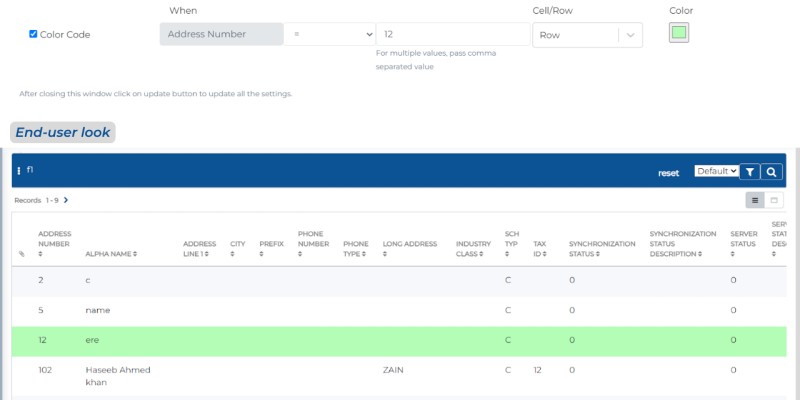 With this release, users are now empowered with a seamless way to access and explore a wealth of information.
By default, users can conveniently view up to 50 records within a tag. However, when dealing with an abundance of information beyond this limit, the "Load More" option becomes available, allowing users to effortlessly expand their access to the data they seek.
It's your gateway to a more immersive and efficient user experience, right at your fingertips.

KPI Widget on View Action Form
With this release, users are now armed with a powerful tool that can revolutionize their decision-making process.
In today's fast-paced business environment, having access to critical data and statistics is essential. Our latest feature allows administrators to seamlessly integrate Key Performance Indicators (KPIs) directly into the View Action form. This means that when your end-users access specific data or records, they won't just see the information; they'll also see key metrics and insights related to that data, all in one place.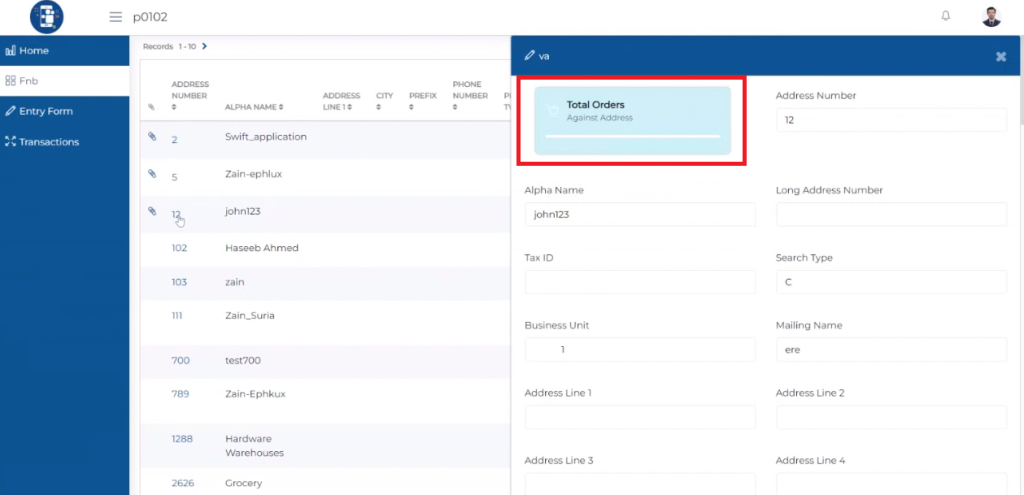 @ feature in ZPL custom button
With this release, users are now equipped with a versatile tool – the "@" feature in ZPL custom buttons!
This innovative addition enhances customization by simplifying automation. By incorporating the "@" symbol into ZPL custom buttons, users can effortlessly automate actions and responses within their applications, whether they need to aggregate data dynamically or work with static fields. This feature empowers users to handle dynamic data efficiently, adapt to changing requirements, and streamline their workflows.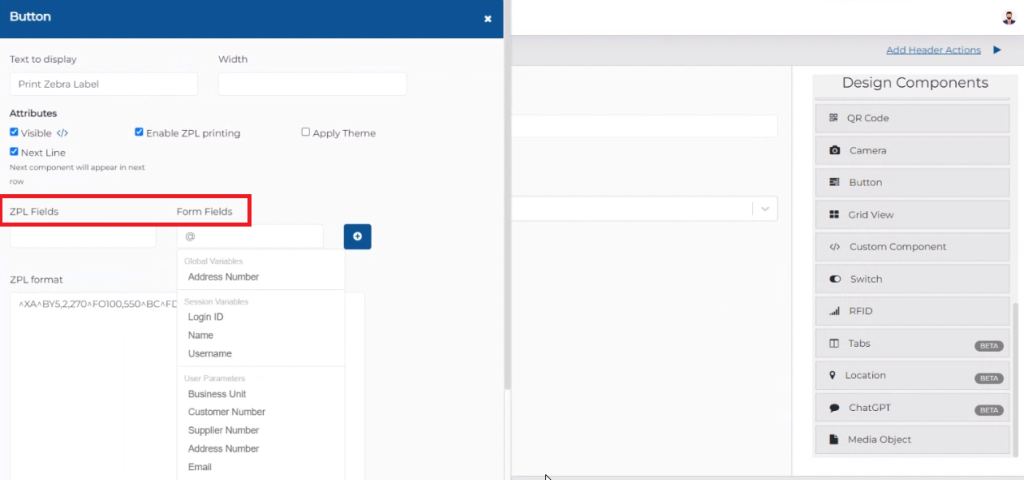 Printer Format and printing configuration for Entry / View Action Forms
This significant addition simplifies the creation of ZPL-enabled Entry Forms, making it a seamless process for Business Analysts (BAs) to enhance their workflow.
Within the Edit screen of the Form, users can easily enable the "Label Printing" option. Once activated, a "Label Printing" link will appear in the Entry Form's breadcrumb trail. Clicking on this link opens a convenient popup, enabling users to configure ZPL printing settings that seamlessly integrate with the submission of the Entry Form.
Furthermore, we've incorporated a Printer Settings link within the End User app. This empowers end users to select their preferred printer when submitting forms, ensuring a user-friendly and efficient printing process.
These enhancements are designed to make setting up ZPL-enabled Entry Forms a straightforward task, empowering your team to work more effectively and efficiently.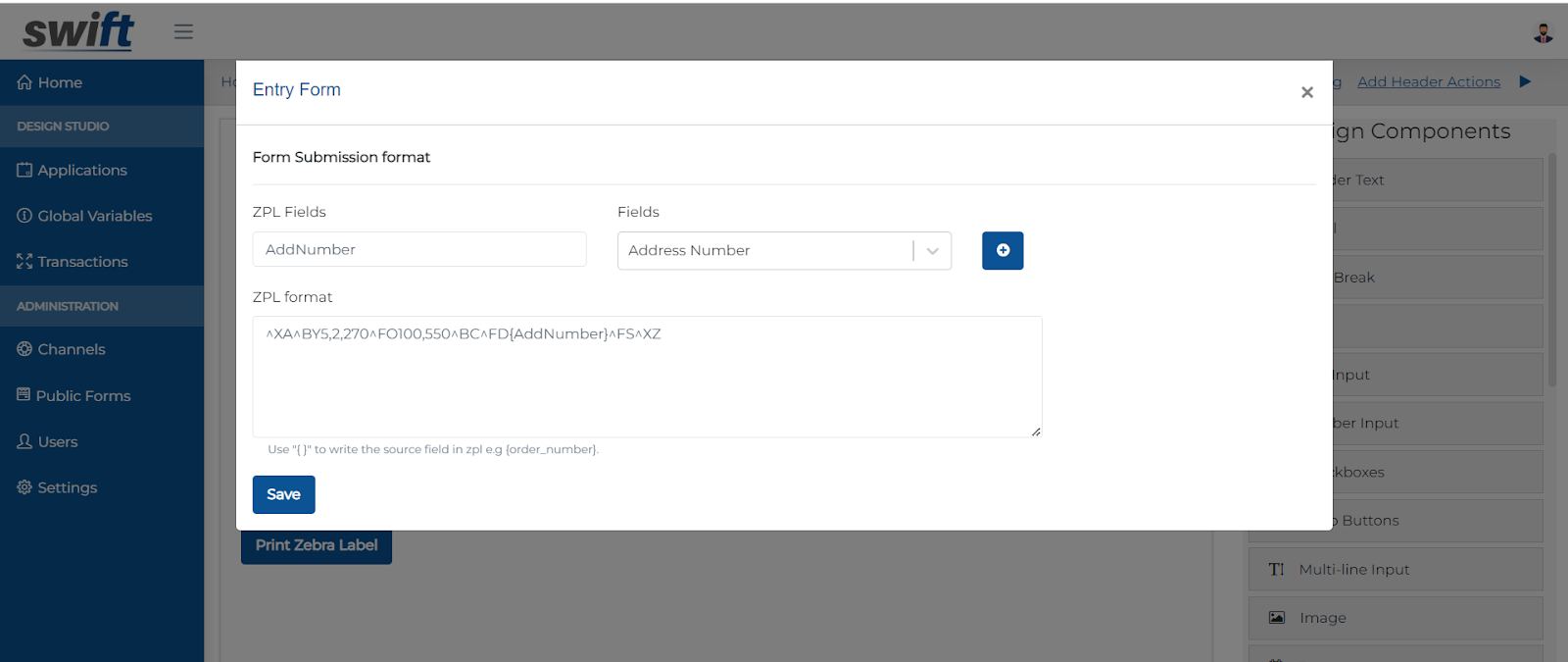 We hope you're as excited as we are about the new features introduced in this release. At Ephlux, we are committed to continuous innovation and providing you with the tools you need to succeed in the fast-paced world of low-code/no-code ERP app automation.

Your feedback is essential in driving us forward, so please don't hesitate to share your thoughts with us.

Stay tuned for more updates, as we continue to evolve and bring you even more groundbreaking features!
The ability to create "disposable" experimental processes and apps opens up the untapped potential of the enterprise to address business problems with an unprecedented agility and positive innovation energy.
How Swift provides the game-changing capability?
Most low-code, no-code platforms evolved as the next-phase of the original development tools, built a decade or two ago, and still follow the same development mindset in their DNA. Although they've tried their best to make them easy for the business analysts and the users, majority have fallen short.
To bring about the real paradigm shift and benefits of a low-code/no-code platform, a grounds-up rethinking was required to work at a meta-data level, and incorporate at the core of the architecture, the latest and greatest advancements in web and mobile technologies, integration, security, analytics and cloud-based server frameworks. 
Get Started
 with
Swift
Sign up for Swift Start and get a fully functional Swift instance, pre-integrated with a JD Edwards demo instance. You can explore the pre-built apps available on Swift App Store, customize them or create your own from scratch and share them with your peers.
Join Swift

Online Training

Join us for the Online Training and learn to design, build, deploy and launch mobile and web apps in a matter of minutes, and how they are automatically integrated with JDE applications, orchestrations and databases without the need to write a single line of code.
Get

Swift

Certification

Swift Certified Consultants are responsible for designing, developing, launching, extending and managing Swift applications. Join some of the most innovative and reputed JDE professionals in the industry by getting your Swift functional or admin certifications.