October 28, 2009
Posted by:

admin

Categories:

Blog, Human Resource Management
Success is a very important word in life since we are all determined to achieve it. The meaning of success is different for everyone; it varies from person to person, what one is searching for in life. For e.g., for some people, doing work they get pleasure from is more important than to earn 'more money'. Success requires passion, determination and wisdom to achieve desired results.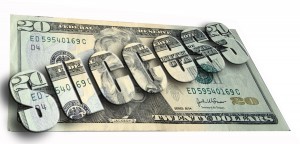 By and large in the social and organizational context, success is measured or associated with wealth/money, for example – the more you earn, the more successful you will be considered. Generally, the motivational idea behind this is, the better you perform/achieve, the more you get (monetary benefits). The premise for this concept might be that everyone is working day in and day out to achieve certain objectives and once they are attained, the best reward for their efforts/contributions is normally considered monetary benefits.
Success in life means money – kindly share your opinions, for or against. Furthermore, what is the meaning of success in your life and how do you evaluate it?