December 24, 2009
Posted by:

admin

Categories:

Blog, Enterprise Agility, Human Resource Management, Requirement Analysis
Employee evaluation is considered vital for every organization since it's an important HR function. A comprehensive assessment of employee's performance benefits a company in many ways. It's a well-known method of evaluating employees' strengths and weaknesses which further facilitates the management as it acts as a foundation on which they can work and improve the overall organizational performance.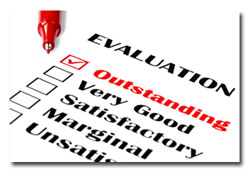 Normally the scenario is that the evaluation is done at the end of the fiscal year (just before the increment period) as per the company's policy. However, some companies evaluate performances on a short term basis (bi annually/quarterly). It has its own advantages, the reason being, if the employees' performance is not going in the desired direction, the management can correct them mid – way rather than waiting for the whole year to end and then making corrections.
Short term evaluation Vs Long term evaluation – which one in your opinion can contribute better, as far as the end – result is concerned. Furthermore, if there are any pros and cons associated with them then kindly highlight those aspects as well.