October 24, 2013
Posted by:

admin

Category:

Blog
Oracle has been developing rather user-friendly and fancy modules for enhancing the Financial Management experience of organizations. The Payments module (IBY – a payment engine designed to work with multiple Oracle E-Business Suite products facilitates the receipt of, issuance of, and management of, customer receipts and batched supplier payments.  It is the central payment engine for Oracle E-Business Suite that lowers costs and improves control by integrating out-of-the-box with major processors and financial institutions. It serves as the funds capture and funds disbursement engine across Oracle EBS R12.
Acting as the central payment engine, Oracle Payments processes transactions, such as:
1. Invoice payments from Oracle Payables
2. Bank account transfers from Oracle Cash Management
3. Settlements against credit cards and bank accounts from Oracle Receivables

What more is in store?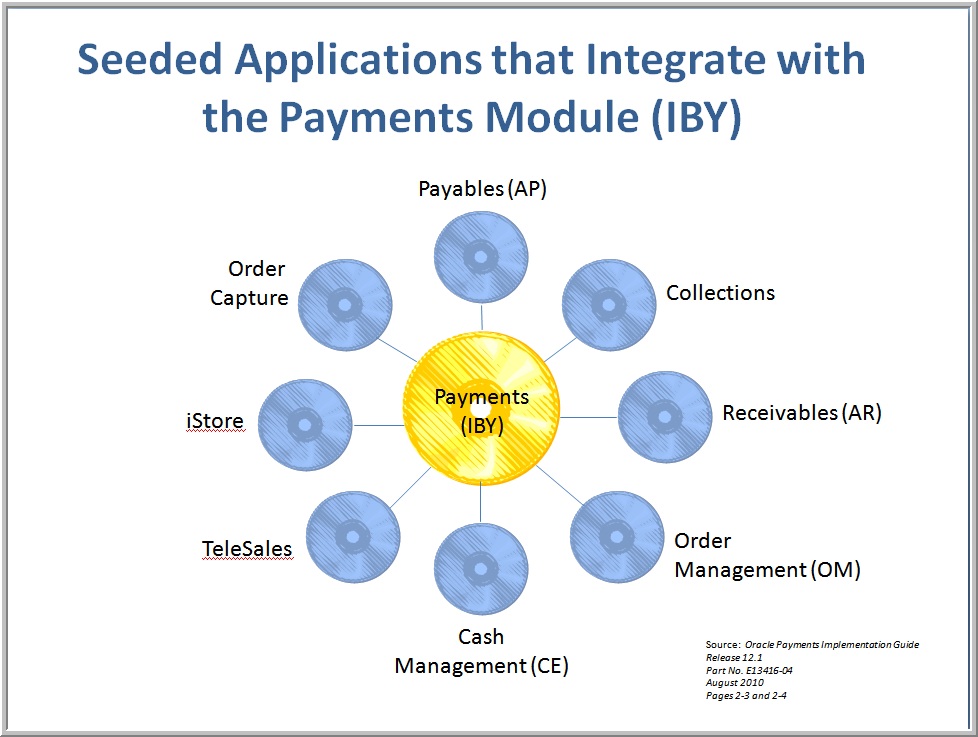 Additionally, Oracle Payments provides the infrastructure needed to connect these applications and others with third party payment systems and financial institutions. Combining the Funds Disbursement and Funds Capture into a single and centralized payment engine, the new Oracle Payments system has made the Financial Management tasks much convenient. Organizations easily generate enterprise-wide payments across multiple business units, currencies and regions, resulting in accelerated and straight through processing rates.
A Little Tech-Info Revealed
A common feature that most companies are unaware of is that Oracle provides a standard API which allows organizations to add additional fields (i.e. XML Tags) to the XML extract.  This standard PL/SQL package is the IBY_FD_EXTRACT_EXT_PUB.
The standard XML file that is generated by the Payment Instruction Extract is organized into 4 hierarchical groups:
Payment Instruction – The payment instruction group encompasses the entire file.
Payment – The payment group represents a payment to a specific supplier.
Document Payable – The document payable group represents the individual invoices that are being paid to the supplier within the payment.
Document Payable Line – The document payable line group represents the lines within the invoice being paid to the supplier.

Benefitting from the Oracle Payments Module: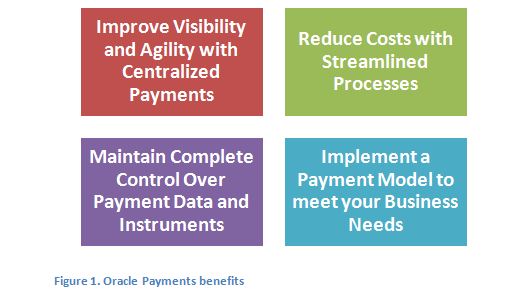 The centralization of payment processing in Oracle Payments offers organizations many benefits:
1. Companies can efficiently centralize the payment process across multiple business units, currencies, and regions.
2. Improved management of working capital.
3. Improved visibility of cash inflows and outflows.
4. Greater flexibility and efficiencies in payment generation.
5. Enables corporate compliance and standardization across the entire Payment Process.
Gear up with Ephlux
Ephlux can help your organization get into the next gear; working with the apt Payments engine that Oracle provides and making your financial decisions smart ones.  Ephlux has a wealthy experience of functional consulting and customization/extensions – and with its motto of making business processes easy and convenient – we can guarantee you a richer experience at work..