May 30, 2012
Posted by:

admin

Category:

Blog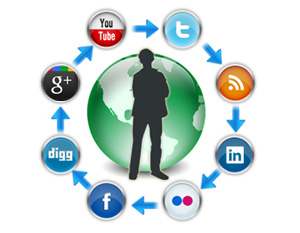 Interacting with your customer has never been so easy. In today's connected world, communicating with your customer is just a click away through social media. However many people still think that 'Social media marketing' is just a buzz word but actually this is a powerful tool that can be used to market and promote your business.
Companies, big and small are already using social mediums to put their businesses online and to reach their potential customers. These practices help in improving customer's impression about your business and creates awareness of your offerings. If you don't engage yourself in promoting your business through social channels, you risk yourself in losing potential customers and fans.
Before jumping in to social media marketing, it important to know what you are trying to promote and what is your target market. The next step is choosing the right social medium to promote your business. Facebook, Twitter, Google+, YouTube and LinkedIn are different social mediums that can be used for different needs.
Read on to know how these mediums can be used to form an effective strategy to promote your business online.
 Facebook
Facebook is the most popular social network. Needless to say, but all 3 generation of users are on Facebook. That's a serious population you can tap into.
You can use Facebook to attract new customers, stay in touch with current customers, promote special offers and content. You can also use it to create buzz and PR relevant to your audience and goals.
You can use Facebook Pages to create and give your business their own profile on Facebook. These pages give your business an identity on Facebook which strengthens your brand and allows people to follow you and receive any updates that you post to your page. You also get specific tools to add new apps and pages, so you can provide a customized experience for your Facebook fans.
Twitter
Twitter is basically a broadcasting tool. Twitter is used to get instant public messages out to your potential customers. Twitter is all about conversation. It's about talking to your prospects and consumers, interacting with them on a personal basis. If you are going to use Twitter for just tweeting your promotions, then it simply won't work.
Google+
Google+ definitely plays an important role in promoting your business to millions of people. The major concept of Google+ is to make your business visible to as many sites as possible and gain more views and visitor.
Marketing your business on Google+ has a hidden benefit: SEO. Google search tends to show more Google+ content in search results. Thus, a well-executed content strategy can do wonders for your SEO rankings.
YouTube
Videos posted on YouTube are a great way to promote your business and to interact with your audience, but you must do it tactfully. Your video must provide them with entertainments as well as value in order to be an effective means of promoting your business. Bland commercials just don't cut it.
LinkedIn
LinkedIn has grown far beyond from connecting professionals with potential clients and employers. Alike Facebook or Twitter, LinkedIn can also be used for promoting your business.
Besides being valuable in building valuable business connections, its Q&A section can be used to ask questions about industry practices as well as your own business insights.  You can gel with like-minded people and see how other professionals tackle the challenges.
Again you need to be genuine. LinkedIn should not be abused with your marketing stories. It demands a strong community sense to help others to succeed. Marketing on LinkedIn is an effect rather than a cause.  It's a byproduct of your genuine interest to help others.
Closing Thoughts
As you've seen social channels are all about opening up and helping others achieve the same goals as your own. Promoting your business through social media can significantly help you increase sales by allowing your consumers to get more close to your business. But there is a lot more to it than that. Helping the community, sharing, learning and congratulating is what makes it so fun and intrinsically valuable.
Do you agree that social media is the best way of promoting business? Does it really play a role of bridging gap between business and customer? Share your views in the comments below.