September 25, 2013
Posted by:

admin

Category:

Blog
We started off day three with the early bird keynotes at Oracle OpenWorld. Joe Tucci, Chairman and Chief Executive of the EMC Corporation started off the, Lead Your Transformation, address by talking about the transition in IT. He mentioned four key macro trends driving this transition:
Mobility
Cloud Computing
Big Data
Social Networking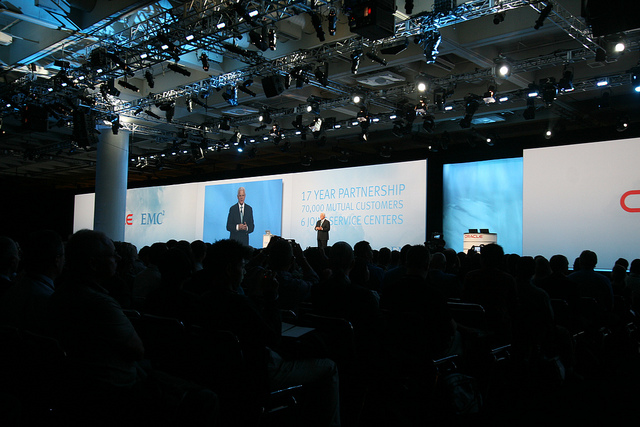 Tucci is confident these trends will be driving transition in IT for at least the next decade. He gave the disruptive and opportunist nature of the IT platform as the key reason for this transition. He defined that these trends promise even better efficiency with lower costs, and much better control through automation. It gives choice with no lock-ins, which is what customers demand. He compared it to what virtualization did to computing and servers. The same types of technologies are being applied for networking and storage. Apps are being built in a number of ways for the era of this new transformation of technology. They're more social, and accessed more from mobile platforms rather than PCs. They're being built in with modern frameworks with new data fabrics like Adoop and they're deployed on a software defined infrastructure. He encouraged the audience to get the benefits of this new third platform and its ability to meet any business need.
Next up was Thomas Kurian, Executive Vice President of Software Development at Oracle. He talked about, "Hardware and Software, Engineered to Work Together: Simplifying and Enabling IT for a Cloud, Big Data, and Customer Driven World". He mentioned Oracle's strategy of offering a complete, open and integrated suite of software (database, middleware, applications) and then to vertically integrate the pieces with their engineered systems offerings and make every piece best to breed. Then he put his focus on the single most important project that Oracle's software engineering teams have been working on for the past year, the Cloud. He mentioned Oracle is very near to offering infrastructure, platform and application software through the Oracle Public Cloud. A number of new Cloud service are very close to being introduced to customers which are currently in preview. These will change the way Oracle customers consume its software and do their IT operations. He then stressed the importance of customer experience being a key area of the Cloud. Oracle has a very simple strategy here, to unify the way customers experience products and services across all the interactions they have with the business, through a comprehensive set of Cloud services. "Content to wow customers by putting amazing websites and online presence in front of them", he stated.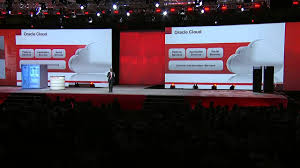 Kurian also mentioned that Oracle has the only Cloud that gives its customers ERP, Human Capital Management and Customer Experience in a single cloud. A user interface that's easy to use with built in optimization for mobile devices. The applications are information rich, eliminating the need to go to another system to find analytics, build reports and to understand predictions of what's going to happen. A platform for business users to extend and configure their applications to meet their needs right from a browser. A social collaboration tool that allows people in all parts of a company to coordinate through a social network. Built-in business intelligence and Big Data technology which makes the system understand what's happening, identify issues and give recommendations on how to solve them all delivered through the Cloud. There is also some PaaS (Platform as a Service) capability to go along with the applications including a database, java, a development environment for people to build and share code in the cloud, the availability to build mobile applications, share documents with other users in the cloud, build business intelligence and analytics in the cloud. There is also an application store called the "Cloud Marketplace" where users can introduce new applications to be used by Cloud customers. Kurian introduced the first product in this line up as the Oracle Database Cloud Service which is simply taking Oracle's database and making it available through the Cloud.
It was then time to explore the exhibitions halls and attend some sessions followed by hands on labs and general sessions.
Larry Ellison made a weird move by missing his Cloud Keynote, opting to show support for Oracle Team USA instead leaving Thomas Kurian with no other option but to take the stage instead. It made atleast a few out of the 60,000 attendees really upset who were eagerly waiting to listen to Larry's keynote. Microsoft's Vice President, Cloud and Engineering, Brad Anderson gave an overview on Microsoft's partnership with Oracle. Anderson showed an all-inclusive cloud computing vision with the Cloud OS.
We wrapped up the day with time dedicated to the exhibition halls.
Ephlux @OOW
Ephlux was there in the exhibition halls, networking and sharing ideas of interest. We visited some more interesting exhibitors, and had some very productive meetings with Paul Jardin VP Technology at Emerald Associates, and also with Vince Casarez, Senior Vice President of Keste Technology.
Our aim to attend Oracle OpenWorld 2013 is to look for new opportunities and partnerships in Cloud middleware, JD Edwards and SOA integration solutions as well as mobile website and application development. For more information visit our website and follow us on our socials.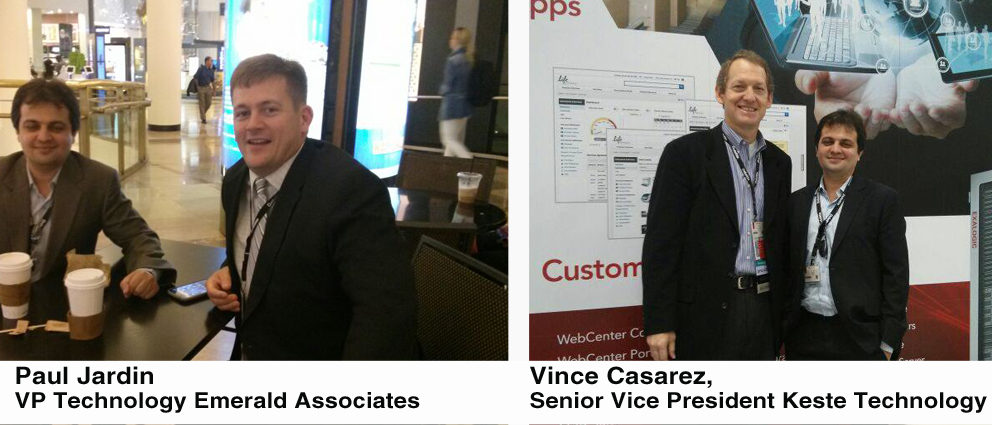 So that's a recap from day three. Looking forward to catch you on day four.