May 26, 2018
Posted by:

admin

Category:

Uncategorized

---
Did you know that 70% businesses conduct manual monitoring of their assets? This leads to either of the two cases, over-servicing or under-servicing these assets. Manufacturing companies spend 25% of their operating expenses just maintaining assets. If that is the case, and 25% is a huge number, imagine the amount of additional money you are simply pouring in while over-servicing your assets.
---
If your assets are being under-serviced, there are several business repercussions where you may be losing money simply by having more than the requisite downtime on your equipment. Or spending too much money fixing your equipment where predictive maintenance can help.
Can Oracle IoT Asset Monitoring Predict Your Equipment Maintenance Needs?
For JDE Capital Asset Management (CAM) users, Ephlux has developed an integrated solution with Oracle's IoT Asset Monitoring, to help monitor, manage and preempt asset breakdown in order to improve asset servicing.
Businesses like yours can save up to 4 hours a week for employees to locate, track and maintain assets. With a workforce of 500, this easily equates to US$6 million over a period of 1 year!
---
Making JDE Capital Asset Management More Powerful with IoT
Most organizations, when they implement IoT for industrial equipment, go up to level 1 in asset monitoring; monitoring the location of the asset if it is where it is supposed to be, and monitoring when the asset faces a problem.
Ephlux conducted a deeply integrated demo of integration between Oracle IoT Asset Monitoring and JDE CAM showing not only the prediction of when the asset may have a problem but also identifying the likelihood of a problem by learning through algorithmic patterns, two levels beyond level 1.
Let's talk more about the solution and how it can work in your particular environment.
Predictive Maintenance Through Oracle IoT Asset Monitoring Cloud
Ephlux integrated Oracle IoT Cloud with JDE Capital Asset Management Module using Oracle JD Edwards IoT Orchestrator to achieve the following objectives:
Enable the tracking and detection of assets
Locate and visualize assets
Predict the availability and utilization of assets and evaluate their maintenance needs
Integrate assets, incidents and work orders, and be able to work upon the requisite data
Solution Components:
Sensors on the equipment

Oracle IoT Cloud Asset Monitoring Application and Custom Add-Ons

Oracle JD Edwards IoT Orchestrator

JDE Capital Asset Management Module
The Solution:
We used data from a variety of sensors measuring environmental and health parameters such as gas flow, motor temperature, coolant flow and suction pressure from a gas compressor.
With the help of Oracle's IoT Asset Monitoring, we took that information to conduct predictive analysis and created incidents as and when needed.
With the help of business rules, pattern and point based anomalies were studied, and through machine learning, predictions were made as to when the gas compressor would need servicing and for what issue.
A summarized view of the solution with its various components is depicted below: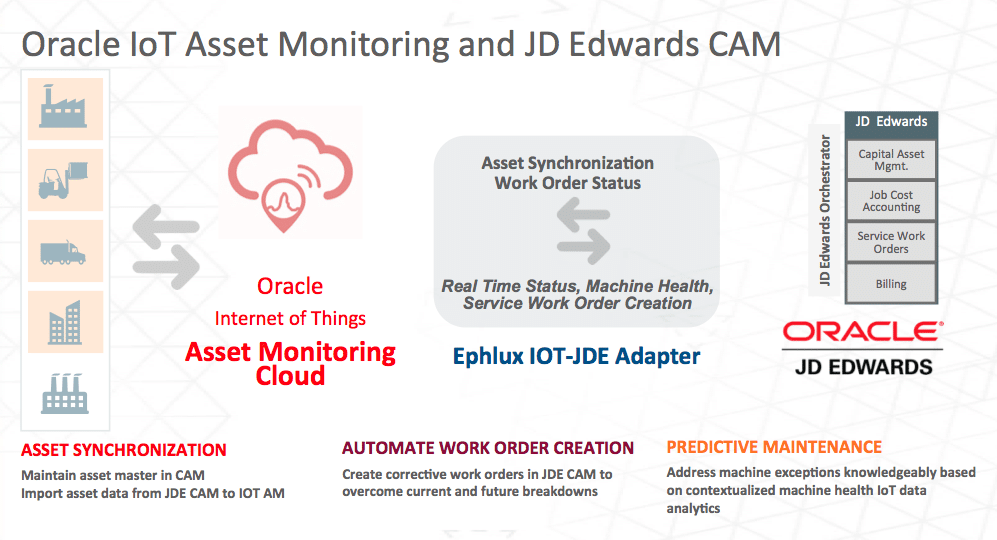 Track and Detect Where Your Assets Are:
In usual business scenarios, most JDE CAM using customers have static information regarding their assets but they don't have information regarding the utilization and wear and tear of these assets out in the field.
With the help of Oracle IoT Asset Monitoring, we utilized the sensors on the gas compressor to monitor its location, health, utilization and availability. Through the data received from the sensors, we were able to evaluate and detect unauthorized movement, errors in the conditions and determine alerts where needed.

We were also able to monitor maintenance needs and create incidents based on those needs. These incidents go on further to trigger and create service orders in JDE CAM as we will see further.
Visualize and Predict Maintenance Needs of Your Asset in Oracle IoT Asset Monitoring Cloud
The visualization of assets through IoT Asset Monitoring can only take you only so far, but contextualization of this data with the rest of the enterprise data sources, and intelligent predictions can help you push through to improve upon your service and maintenance of enterprise assets.
If the behavior of the equipment can be predicted in the future, then we would have more time to address the service required for that equipment. For that, our solution covered some key predictions for the gas compressor based on the sensory data received.

As you can see from the screenshot of the dashboard, incidents, anomalies, and predictions are tracked and users can monitor their assets. We used the sensors on the gas compressor to gather some data and witnessed some anomalies like gas leakage and temperature rise. Based on that, incidents were raised, to do corrective maintenance activities on the compressor. Further, the predictive analysis also showed when preventive maintenance could be triggered for this asset.
Use Oracle IoT Asset Monitoring to Predict And Act Through JDE CAM
The integration of Oracle IoT Asset Monitoring with JDE CAM, through Oracle's JD Edwards IoT Orchestrator, brings about a lot of benefits. We imported the list of equipment from JDE into IoT Asset Monitoring to be able to keep track and predict their behavioral anomalies in IoT Cloud. Through the Orchestrator, we received information from IoT Asset Monitoring Cloud based on the predictive algorithms. This information is then created as a work order as shown in the screenshot below:
Based on various conditions and predictions made by the Oracle IoT Asset Monitoring Cloud, JDE CAM receives condition based work orders. This means that your equipment remains in good shape as it gets serviced when really needed. Predictability also improves its uptime and then cuts down on extra costs on over-servicing your assets. We used the gas compressor example to create such work orders.
What are Business Benefits for This Integrated Solution:
First and foremost is the ability to cut down on the number of days in corrective maintenance when predictive trends can tell your JDE CAM module when preventive maintenance needs to be performed. However, hidden benefits also include lesser unscheduled downtime of your assets, less time taken towards corrective maintenance, saving up on time and resources in upkeep that may actually not be needed and more. Through this integration, JDE CAM Equipment Cost Analysis gave us a fair evaluation of the funds saved simply by being proactive using this IoT!
---
Want to know more about our integrated solution using Oracle IoT Asset Monitoring and JDE Capital Asset Management?
Get in Touch With Us Today: