February 11, 2015
Posted by:

admin

Category:

Blog
Conventionally, companies have been investing heavily on marketing and product development and not on the customer! But that was fine – the simple logic was: market strongly and across all channels – the customer had no choice but to notice your mass-advertisement and got impressed (where would she hide anyways?)
Willingly or unwillingly, customer gained product awareness – that awareness created demand and the demand converted in to sales. Quality product and service ensured that the customer needs were met and she kept coming back for more, resulting in more profitable repeat orders – Simple, effective and time-tested right?
Right, but only until the empowered customer changed the game completely for everyone across functions and industries.
Welcome the new Customer – the selfie-generation!
Say Hello to this new customer who's fiercely empowered with all the super-powers in her smartphone connected 24/7 to her social networks and beyond. She doesn't give a hoot about your TVCs, your billboards, your standardized marketing and sales processes and even your loyalty programs – what's loyalty really? a customer who's all ready to fight back decades of brand-slavery (ok keep calling it brand-loyalty if that makes you feel better)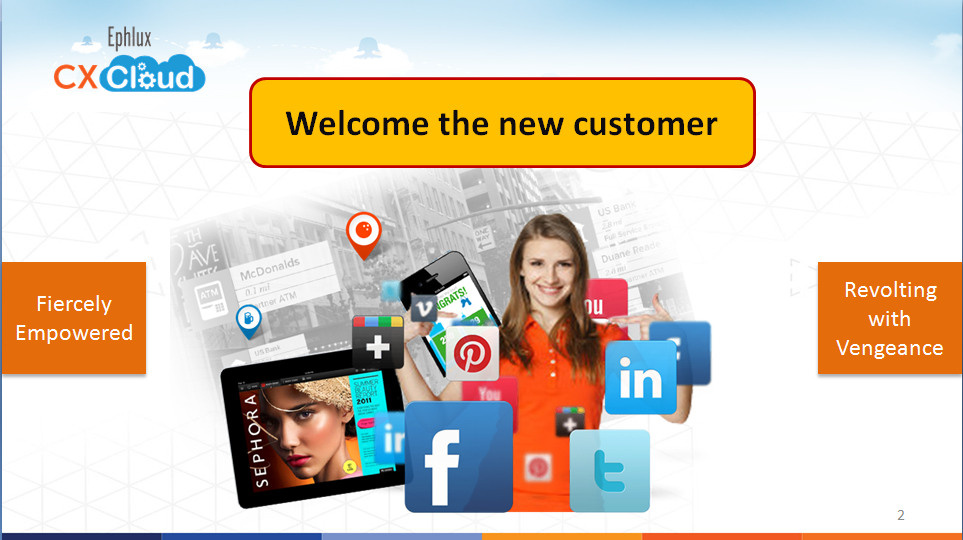 Welcome the New Customer – the selfie generation!
But the fact is that this customer is a self-obsessed ego-maniac – she's only hooked on to herself – her smartphone, her Facebook profile, her tweets, her Instagram, her Pinterests – her life and couldn't care less about your product and your promotions.
She drives through the freeway but doesn't notice your billboard, she commutes via Metro but doesn't look at your ads, she walks in to the mall staring at her smart-phone sharing her selfies, but still doesn't look at your flashy adverts you spent millions on, from your hefty promotions budget.
Customer Revolution
This customer has revolted – and very fiercely so. She has all the tools, all the platforms and all the audience in the world to declare this revolution. She's got a voice which is louder and more authentic than your most reputed PR agency.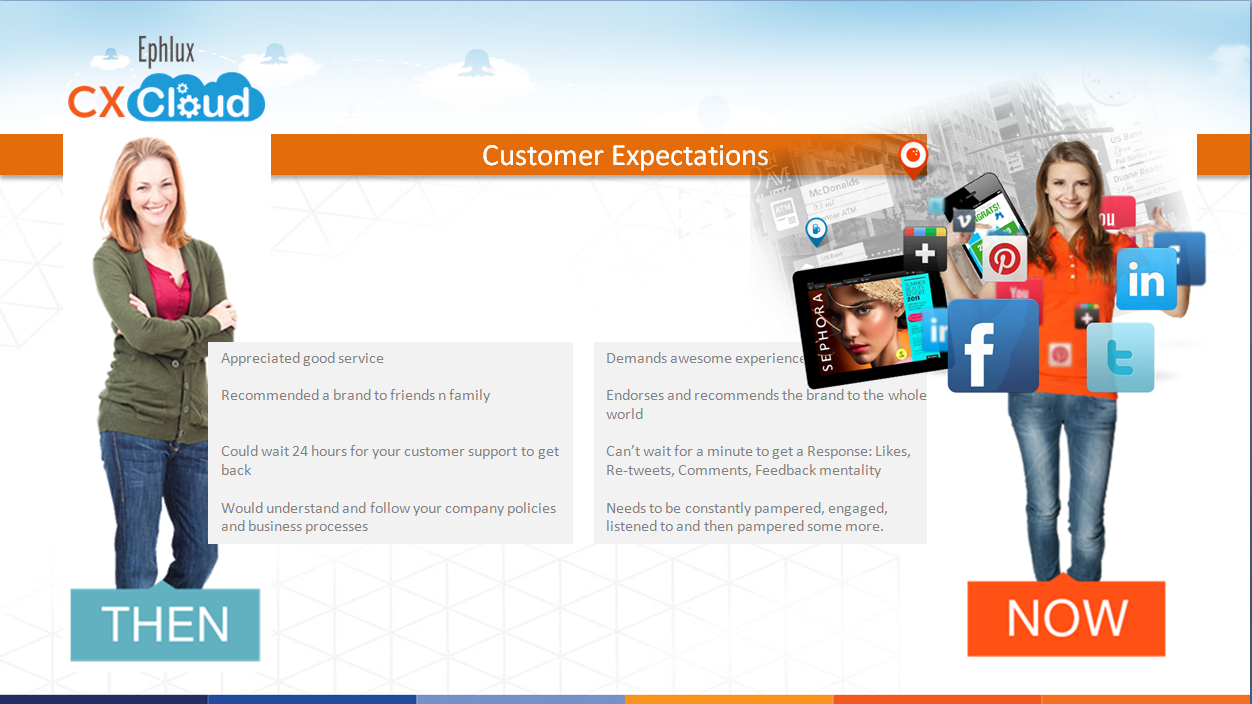 You can love her or you can hate her – But what you can't do is ignore her!
So what really should you do? Keep doing more of the same? Push harder to fill the funnel with your even bigger ads and even louder TVCs hoping that something would ultimately trickle down the other end?
OR is there a better way? For starters, realize that the funnel has burst and its pieces spread across numerous touch-points: social, mobile, in-store, BTL, OOH and more. Find opportunities to augment 'customer experience' across all those touch-points. Stop loudly promoting yourself and start keenly listening (to the customer's digital body language) – find ways to become deeply relevant to your customer's everyday life experiences.
Your customer goes through multiple psychological states during the journey where she needs your service, researches about it, selects & purchases it, receives & uses it, maintains it and then either endorses you or bashes you.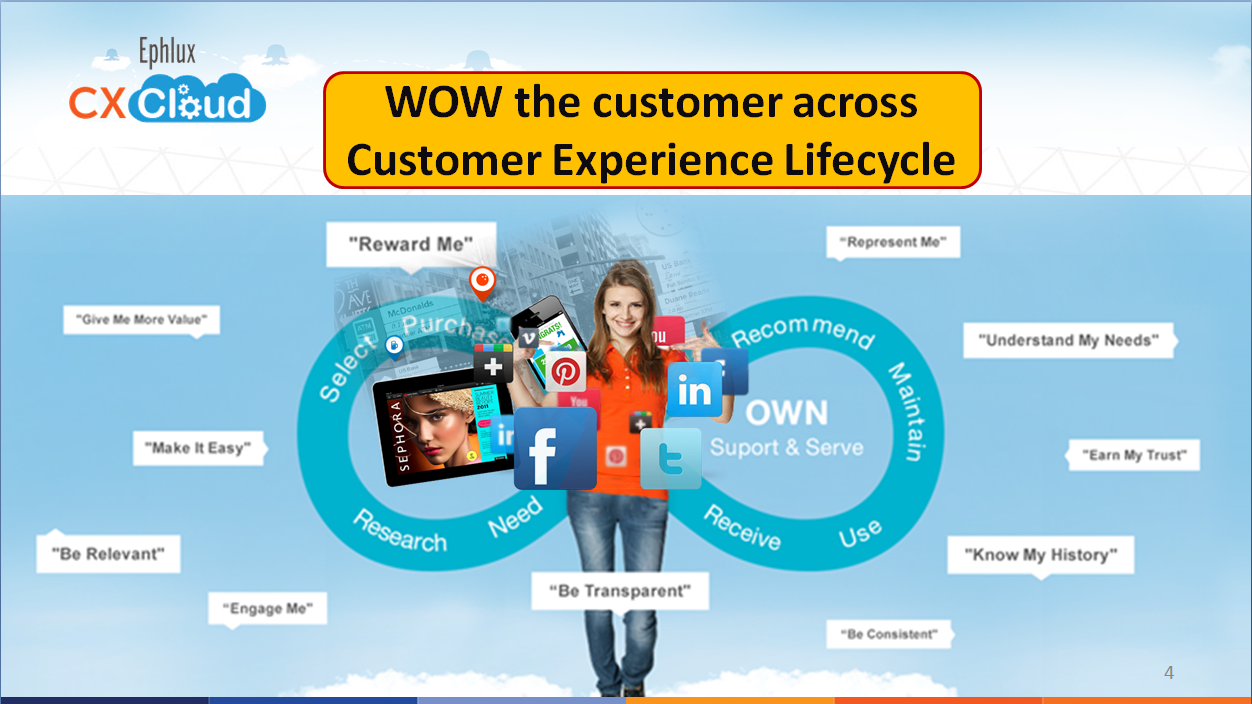 Those psychological stages can be understood and mapped to your current customer journey. This way you can identify the disconnects and where you are dropping the ball with customer experience. The digital and physical touch-points such as search, mobile, social, e-commerce, in-store, call-center, kiosk, TVC, billboard etc. can then be augmented to enhance the customer experiences.
That makes your brand engage with your customer at a much deeper level in a much more human way – understand her fears, her passions, her likes, her dislikes – her life and engage in meaningful ways!
What does it take to do CX?
It takes a good understanding of human psychology, design, marketing, process engineering, technology and a strong 'service design thinking' to bring them all together while keeping your customer at the center of your business strategy.
CX is Everyone's Business
Now here's the dilemma – historically tech, marketing, sales and customer service are structured to work as isolated functions, with rarely an ERP specialist working with a marketer or a sales guy on a common project – whereas CX initiative requires just that – having your strategists, marketers, sales, customer support and tech work as a single team.
Also, the conventional ERPs and legacy systems such as E-Business Suite, JD Edwards, SAP etc. are designed to be tightly integrated and are not agile enough to easily integrate with all these new digital touchpoints that keep pouring in via mobile apps, social networks, wearable devices etc.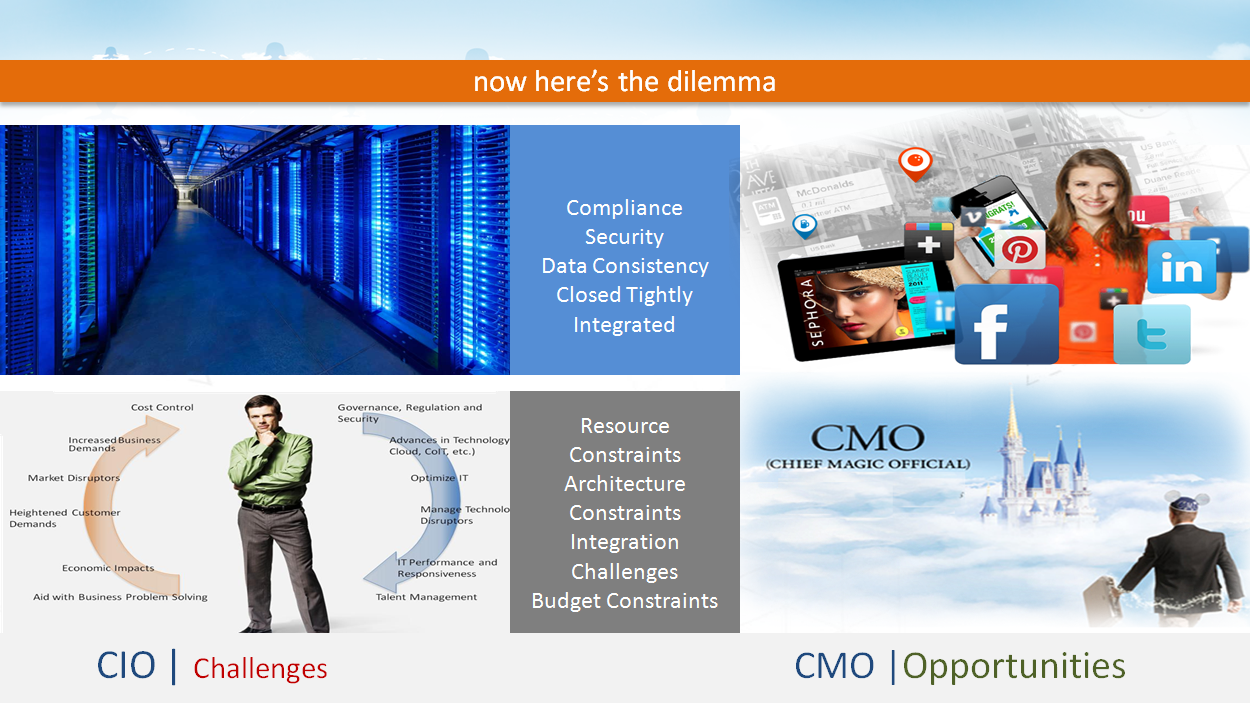 CX Implementation Chaos
Without having a solid CX middleware framework, trying to piece together all the systems to drive your CX initiative, results in a chaos. As depicted in the diagram below, what you end up with is a total mess making the integration costly, non-scalable, unmanageable and a recipe for failure!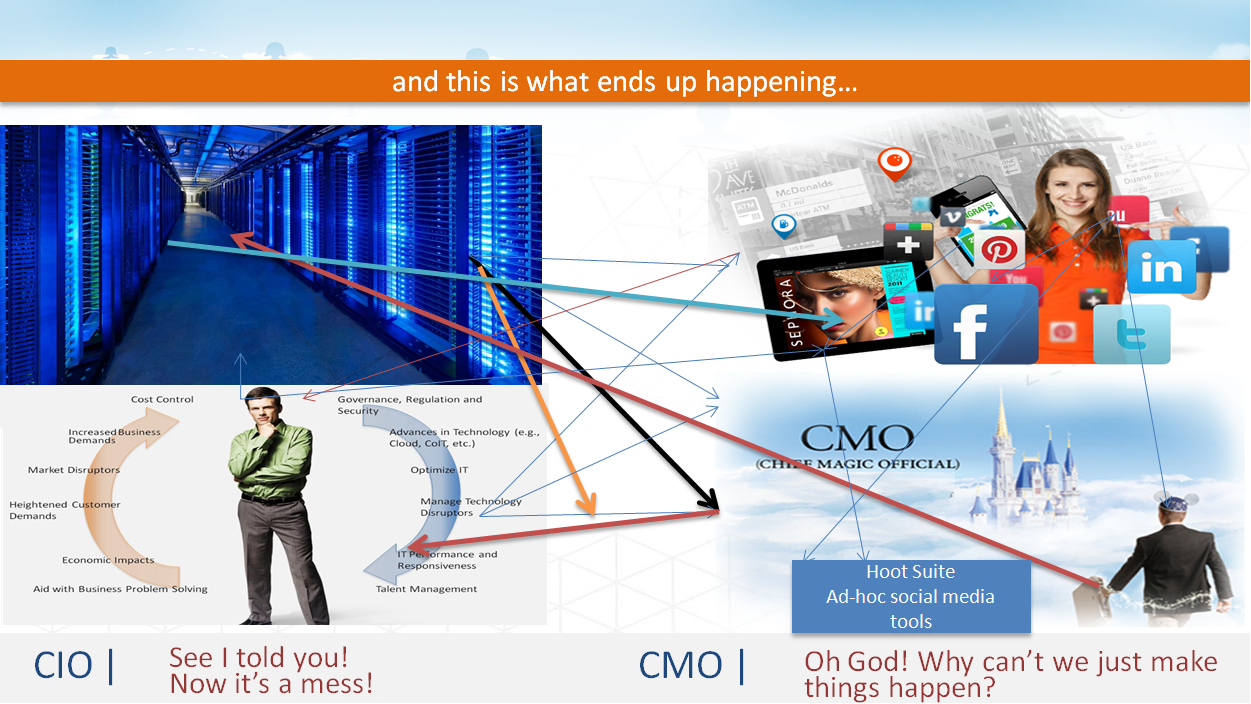 Also, a CX business process can not reside within a particular touchpoint, such as kiosk, mobile app, e-commerce app, POS system etc. nor can such it reside within a tightly integrated ERP or backend system.
It has to reside in the middleware SOA (Service Oriented Architecture) and that too in the cloud… to be able to intelligently integrate all the pieces of the puzzle together to create a holistic customer experience.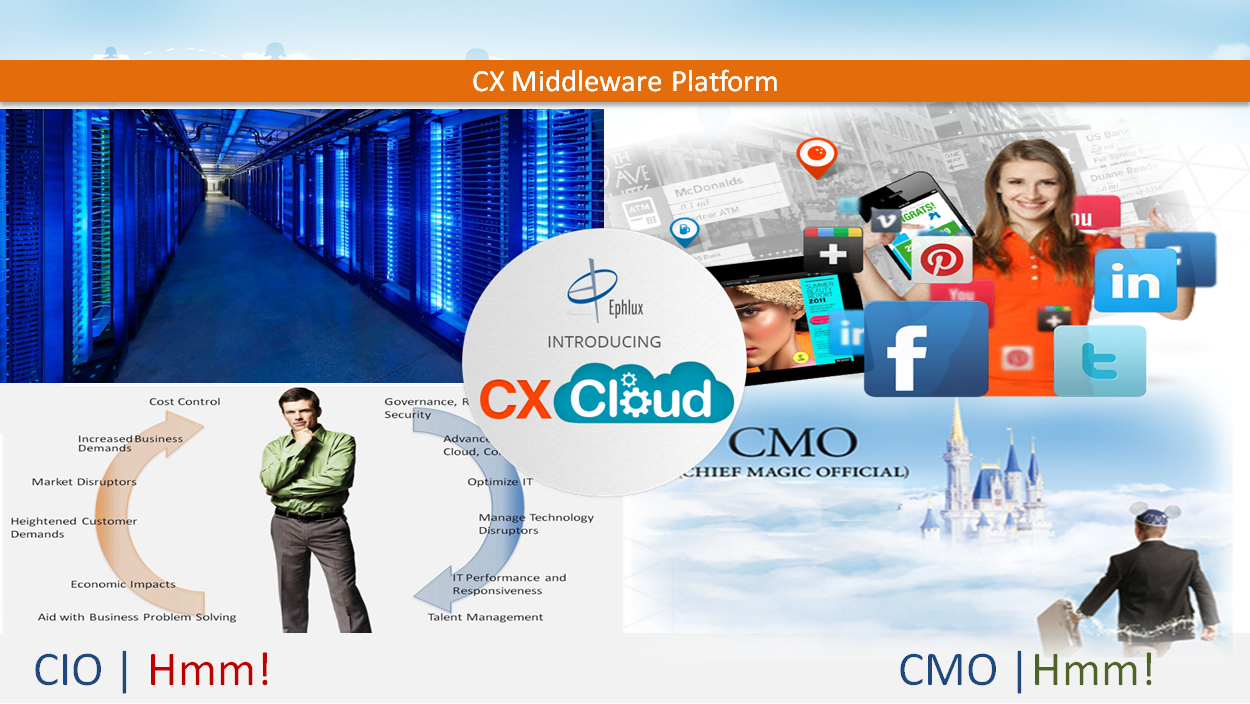 SOA helps it to connect and orhcestrate all the services and devices on-premise and in the cloud, in to a CX business process which is scalable, reliable and can be monitored in real-time and improved upon quickly.
What Oracle been doing in the last decade….
This is exactly what Oracle realized early that in order to CX-enable the enterprises, they'll have to re-write all the Oracle enterprise apps for the cloud, intelligently de-coupling them and offering each of them separately on the cloud.
This allows these enterprise cloud apps leverage all the innovation that keeps coming in from the disruptive start-ups from left, right and center – around social, ad-tech and location-based services, by orchestrating customer-centric processes by piecing them all using SOA and web-services.
Project Fusion and Oracle Fusion Middleware
In 2005, with the acquisition of industry leaders in respective enterprise app categories, such as Siebel, PeopleSoft, JD Edwards, Oracle started working on a futuristic architecture called "Oracle Fusion Middleware" using their own Java Enterprise meta-framework called "Application Development Framework" (ADF). The idea was to provide a strong platform on which to re-write all the enterprise-apps using the latest technology and make them ready for enterprise-cloud.
Fusion apps – Emergence of SaaS enterprise apps
Oracle put in an unbelievable amount of money, time and effort to re-write their enterprise apps 5 years at a stretch, and finally, in 2011 announced Oracle Public Cloud with "Java Cloud ", "Database Cloud" along with "Fusion CRM" and "Fusion HCM" being the initial offerings.
Emergence of Oracle CX Cloud apps
In 2012-2013, Oracle finally unleashed its aggressive product roadmap for CX fusion apps backed by its acquisition strategy and re-branded them under Oracle CX cloud apps.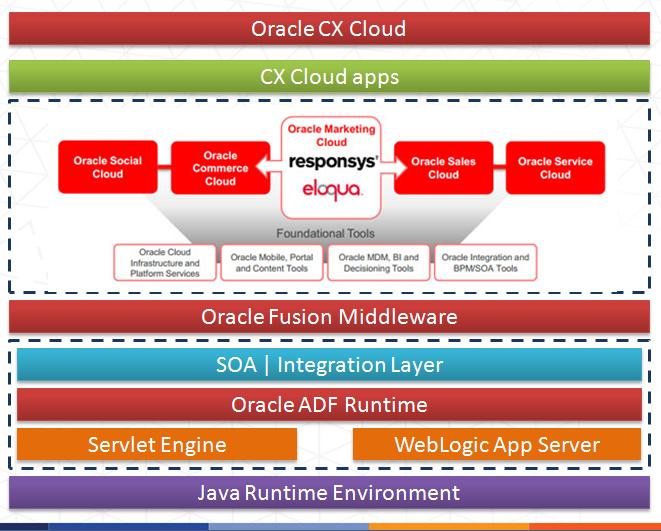 Oracle CX Cloud consists of:
Oracle Marketing Cloud which is headed by Kevin Akeroyd and includes Marketing Automation (Eloqua), MCCM (Responsys), Data Management Platform – DMP – (Blue Kai and recently Datalogix), Content Marketing (Compendium),Social Listening (Collective Intellect), Social Publishing and Engagement (Vitrue, Involver).
Oracle Sales Cloud earlier known as Fusion CRM has been built from scratch on top of Oracle Fusion Middleware stack and written in ADF. It provides a robust Salesforce automation capability, powerful sales analytics and includes mobile apps, integration to social cloud service, customization via App Composer and extensions and integration using BPEL via Process Manager and Java ADF programming.
Oracle RightNow Service Cloud With their strategic acquisition of RightNow and by marrying it to their Fusion eco-system, Oracle launched Oracle Service Cloud (Oracle RightNow) which includes

Web Experience

,

Social Experience

,

Contact Center Experience

,

Policy Automation

,

Engage and Service Experience Platform

.
Oracle Social Cloud Oracle Social Cloud provides social listening, marketing and engagement capabilities. Oracle Social Cloud service links with all enterprise apps and provides the business processes a social and conversational context and integrates them with enterprise social network (Oracle Social Network). This helps employees, partners and customers collaborate with each other.
CX Innovation Accelerators!
Although Oracle has provided all the tools on the cloud – the apps, the platform, the infrastructure, what will really define the success of your customer experience strategy is how you leverage all that, by re-imagining your business model and re-engineering your business processes around your customer.
A continuous string of CX-motivated innovations need to follow by orchestrating people, processes and apps and extend them out to the customer-centric touch-points and channels – mobile apps, social networks, location-based-services, e-commerce, augmented reality, wearable devices and more…
CX Idea Engineering & CX Enterprise Architecture
With that in mind, we at Ephlux started re-structuring our consulting and technology services around the concept of CX innovation acceleration. We formed a team of brilliant people whom we call "CX Idea Engineers". They connect with industry thought-leaders, evaluate conventional business processes and using customer-journey mapping, re-engineer them in to customer-centered processes.
Having a sound knowledge of what CX technologies on the cloud, in-venue, on-device and on-premise our CX Solutions architects use a combination of Oracle CX stack with customer's on-premise tech stack and marry them in with mobile apps, kiosks, in-venue, POS and augmented reality and more…
Ephlux CX Innovation Accelerator
We have conducted tons of CX Innovation Accelerator workshops and have engineered CX ideas and implementations for verticals ranging from Retail, Telecom, Financial Services, Healthcare, Hospitality and more…
Using customer journey mapping and business process re-engineering, we've identified CX innovation that can best leverage the available technologies; both consumer-side and enterprise-grade CX cloud apps available in the market (in our experience Oracle provides the most comprehensive CX cloud platform and app portfolio to date)
Using the best from open-source, we've put together a CX Innovation & Integration platform (Ephlux CX Cloud) that allows to quickly ideate, design, orchestrate, launch,monitor and optimize awesome customer experiences.
Using all the latest in SOA, integration, UX, big data, analytics and lean technologies, this CX middleware helps with Customer journey mapping | CX Idea & process engineering | CX campaign design & launch | Big data, real-time, in-memory analytics | Real-time monitoring & dashboarding | Integration to backend ERPs, Oracle CX cloud apps and mobile, social, location-based, in-venue touch-points and cloud-based SaaS offerings with an ability to optimize it all instantly.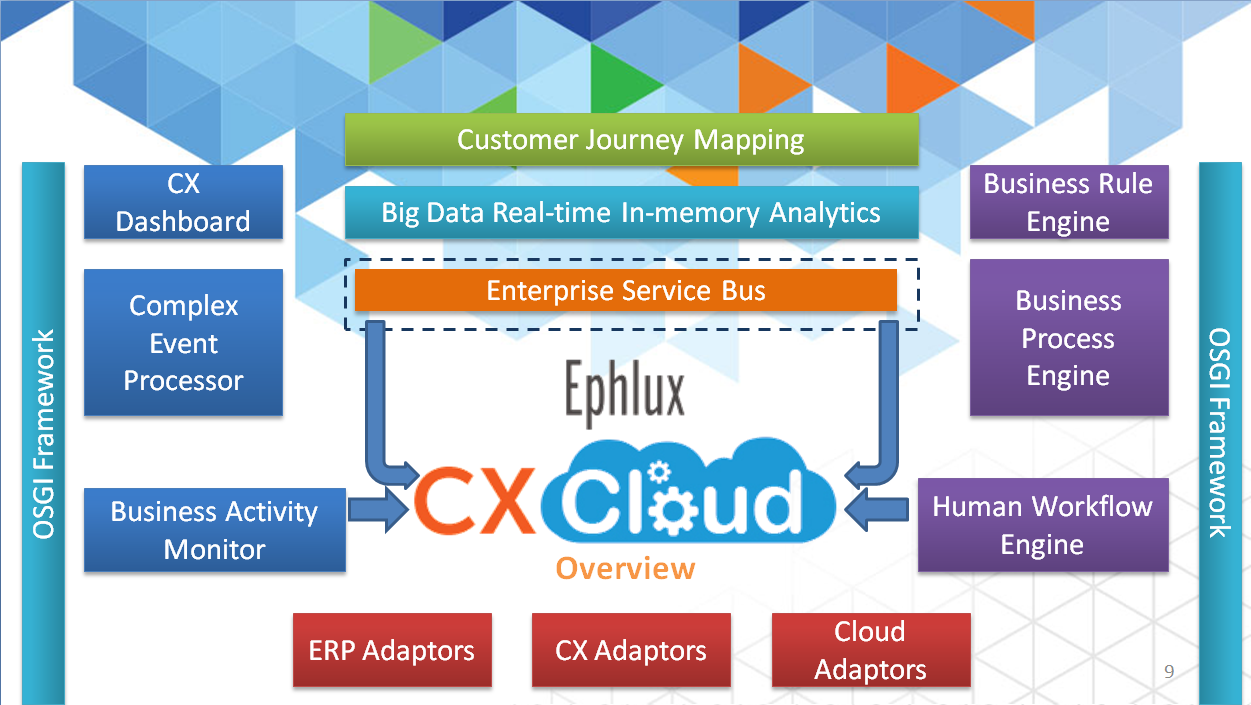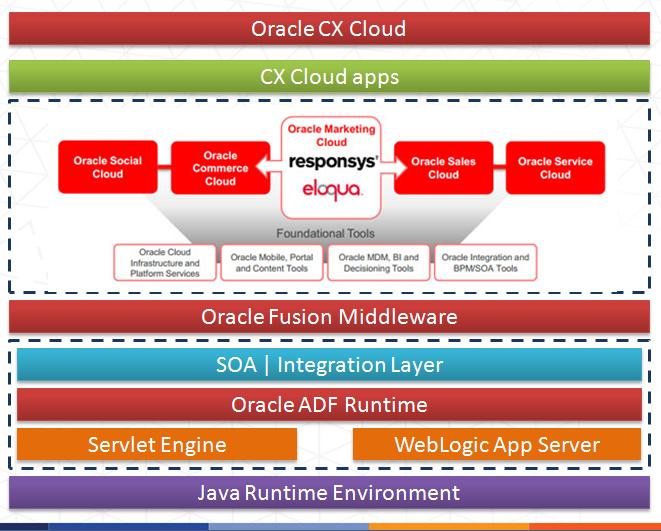 As one of our customers puts it:
We need a platform that allows our marketing and IT to join hands to quickly ideate, design, orchestrate, launch,monitor and optimize awesome customer experiences.
And in case you were wondering, we don't leave you hanging, trying to figure out the mobile and e-commerce strategy around Oracle CX cloud apps on your own…
We complete the last mile with mobile apps and more... Using our enterprise mobility teams we build the iOS and Android apps that provide contextual, location-based, personalized customer experiences by integrating to your Oracle Sales, Marketing, Service and Social cloud and other on-prem systems. In fact we future-proof your mobile deployments ensuring constant upgrades from iOS 6,7,8 to whatever…and Android jellybean, lollypop to whatever…and also the wearable devices.
and e-commerce to close the sales loop… Also, we deploy and integrate multi-channel e-commerce solutions both open-source such as Magento and commercial such as Oracle ATG Commerce and more to your Oracle CX Cloud…
As you would've guessed, CX is my passion and engineering ideas and implementation for CX technologies is our bread n butter at Ephlux. I would love to hear your thoughts on your CX strategies and the challenges you are facing with them.
If you would like to explore how Ephlux can help implement and integrate Oracle CX Cloud, feel free to reach out by filling the form below:
---
[contact-form-7 404 "Not Found"]
---
About the Author
Ali has around 14 years of experience, spanning areas of strategic technology management, product and business development for the US, UK, South Asia and Middle East regions across telecom, hospitality, healthcare and other verticals.
At Ephlux, Ali is currently focused on CX (Customer Experience) platforms and consulting, SOA, enterprise mobility, digital marketing and integration of enterprise cloud apps, ERPs, CRMs and EMRs with customer-centric mobile, social, e-commerce, in-venue and other digital touch-points.
Ali and his company Ephlux has worked on customer experience, integration and mobility projects for large enterprises and start-ups alike, including PHILIPS, Disney, Gibson Guitars, Johnson & Johnson, IKEA and many more.
Ali can be reached out on his twitter handle @m_ali_nasim and on his email at ali.nasim@ephlux.com