January 4, 2010
Posted by:

admin

Category:

Blog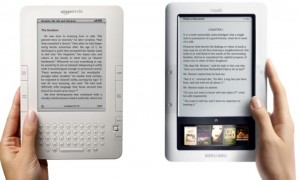 "We like to make bookstores more accessible, and make it easier for customers to go online and buy books." Said Stephen Riggio, Barnes & Noble CEO on the launch of its new e-book reader: Nook. It bears striking resemblance to the Amazon's Kindle, adding some useful features, but still there are some characteristics that make it a favorite of frequent readers.
Speed is one of the critical areas, where the Nook falls short. The start-up takes almost a minute and 50 sec, from the release of power button till reading, making it clearly incomparable to the start-up of Kindle which last around 3 sec.
Nook's lively color navigation screen contributes enormously to make its 'start-up pokiness' less evident. This provides a full color experience while scrolling through title covers, magazines, newspapers, journals etc. when reading the navigation screen goes off automatically giving a full screen display. However, Kindle is still accompanied by a gray-scale screen with a full sized keyboard (not used most of the time).
The lend-books feature of Nook is for people who are always exchanging and sharing books with friends. It allows for the Nook user to share a book with a friend given that the recipient has the Barnes & Noble e-book reader app. On the other hand, Kindle lacks this but comes along with a text-to-speech feature for people who want to complete their reading while driving or cooking.
It's a close race with pricing, 3G and Wireless capabilities being basically identical. The only real difference is the color navigation screen, which has been speculated to be slow.
What do you suggest? Who will succeed in the e-reader market? Nook or Kindle. Please provide reasoning as to what would you prefer and why?
Regards
Murtaza