June 23, 2012
Posted by:

admin

Categories:

Blog, Uncategorized
Microsoft Corp. has announced the launch of its own Windows-powered tablets called Surface on 18th June, 2012 in Los Angeles. It is expected to be available in market by the end of October, 2012.
Two Models
First model is Windows RT which is thinner than the latest iPad. It has a 10.6-inch screen with a 16:9 HD resolution. The larger display on the Surface weighs 24 grams extra than iPad. It resembles Windows Phone and uses low power processors. It will come with either 32GB or 64GBof memory.
Second model is built around an Intel Ivy Bridge CPU and it runs Windows 8 Professional and uses traditional Intel chips. Compared to Windows RT, it's slightly less thin i.e. 13.5 mm and heavier 903 g in weight. It will come with 128GB of memory.
Both models have full-size USB ports i.e. USB 2.0 for the Windows RT model and USB 3.0 for the Windows 8 Professional model which differentiates them from iPad. Both have a shorter battery life than Apple's iPad and will be available in WiFi only.
Uniqueness
Microsoft Surface Tablet uniqueness is its magnetic cover that works as a full-size keyboard with slightly raised keys and a trackpad. The Touch Cover which is 3mm thin comes in different bold colors.
There is also a stand integrated into the case. It opens to set the tablet open at a 22degree anglewhich is ideal for watching a movie, video calling or typing using the smart cover.
As far as apps are concerned, Microsoft has fallen way behind Apple, Google and Blackberry because there are more than 600,000 apps across the iPad, iPhone and Mac and more than 225,000 apps, specifically for the iPad. While Microsoft Windows smartphones have only about 70,000 apps.
Comparision between Microsoft Surface Tablet and AppleiPad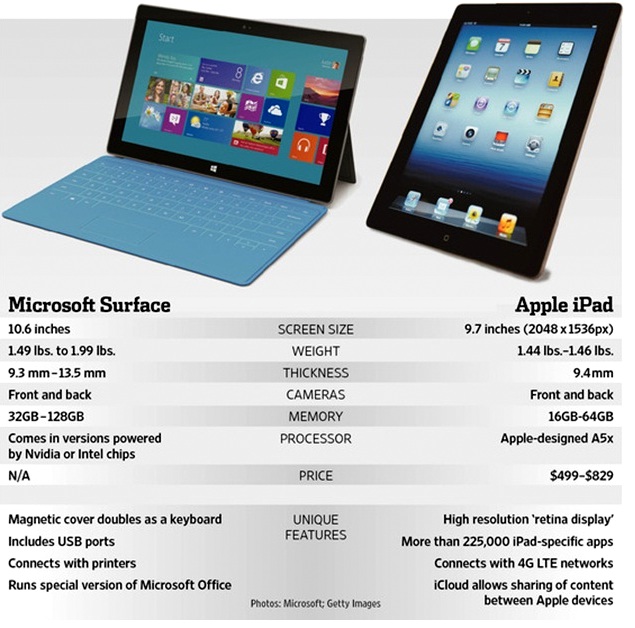 According to Bloomberg, Microsoft will be working with Apple's iPhone-maker, Pegatron, to manufacture the Surface tablet and is hoping that its new hardware will allow users to replace their Apple iPads and Windows 7 laptops with new Windows 8 tablets.