January 27, 2010
Posted by:

admin

Categories:

Blog, Career Growth, Client Relations, Corporate Culture, Relationship management
Ethics in business is imperative because it acts as a guiding force for companies to meet high moral principles in delivering its services to the customers. For this reason, it is the social responsibility of every organization to comply the rules and regulations within their industry spheres.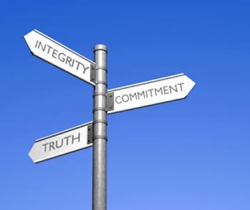 Marketers are responsible for what they are actually offering and what they are portraying in their marketing campaigns. Therefore they ought to be cautious in this regard and make sure that they follow the corporate values to earn long term customer loyalty. Because time and again we experience that profoundly marketed products often fall short of expectations which are initially created by their enticing marketing campaigns. But they do, on an average exaggerate their product/service's quality.
Have your say on this – how you do perceive various marketing activities carried out by different companies for reaching their target audience. Furthermore, should there be a reasonable degree of check and balance of the promises they make to their customers.