October 5, 2009
Posted by:

admin

Categories:

Blog, Career Growth, Communication, Corporate Culture, Enterprise Agility, Human Resource Management, Relationship management
For every organization, in order to be effective and efficient for the purpose of accomplishing its objectives, the human resource in the organization should be united to achieve the common/shared objectives.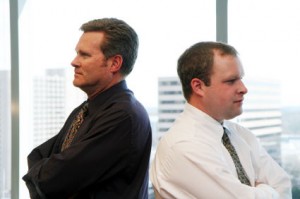 Management conflicts normally arise when there is a divergence of views. It is part and parcel of every work environment because where you deal or interact with people, sooner or later you will have to deal with conflicts. People come from diverse backgrounds, having different opinions so disagreement among them is quite normal.
Ineffective organizational system, lack of communication, ego, uncompromising attitudes, weak leadership, dominating nature, different perceptions and lust for power/influence are among the major causes.
Normally, when roles are not defined appropriately, then the probability of conflict is enormous. In order to minimize this problem, boundaries and roles should be defined and this needs to be communicated to the employees so that misinterpretations and insecurities can be reduced.
Management needs to be skilled and must be vigilant to identify any negative norm occurring within the organization. Open discussions can play an essential role in stabilizing disputes.
An understanding has to be developed to make sure that every single employee is contributing towards the organization's mission and vision. Disputes and conflicts must not come in the way of attaining it. On the other hand, constructive conflicts must be encouraged as it can help to develop an understanding between people, who can learn more from each other, resulting in the resolution of problems.
Share your views on how the management can resolve such issues and how these conflicts can be rectified at all levels.