Join our webinar to experience the power of Swift with the intelligence of ChatGPT and robustness of JD Edwards E1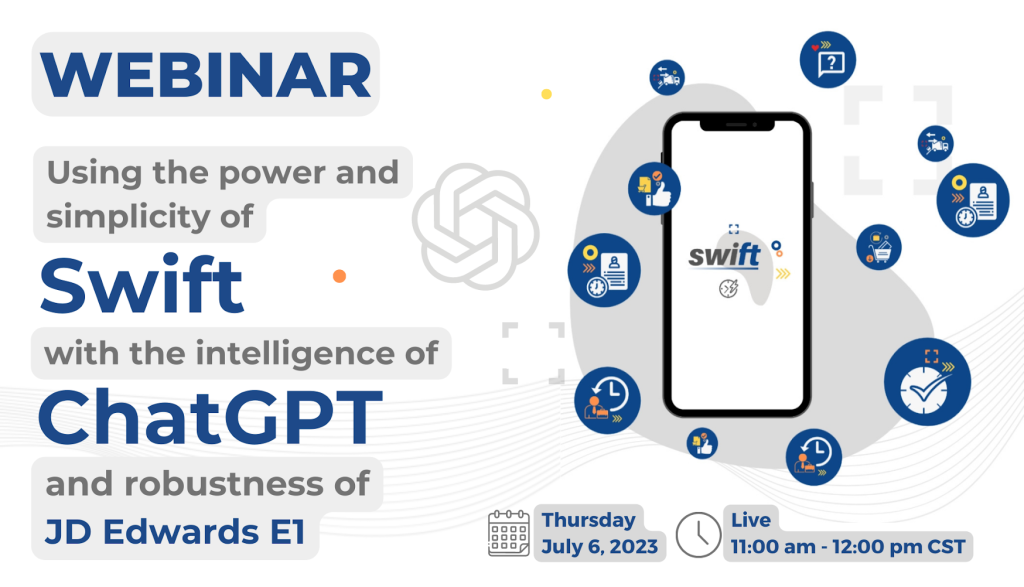 Using the power and simplicity of Swift with the intelligence of ChatGPT and robustness of JD Edwards E1
How powerful would it be to combine the business intelligence of your ERP, industry intelligence of ChatGPT and human intelligence of your workforce, all within one seamless user-experience of mobile, tablet, scanner and web portals created by your Business Analysts using a low-code/no-code platform?
In this webinar we will cover how Yamana Gold – one of the largest gold mining companies – launched their PO and Invoice approval mobile and tablet apps using Ephlux Swift – Low Code / No Code and Orchestrator
During this webinar, you will explore the potential of leveraging Swift's power and simplicity alongside ChatGPT intelligence and JD Edwards E1 robustness.
Imagine the tremendous strength that arises from merging your ERP business intelligence, ChatGPT industry intelligence, and the human intelligence of your workforce, all seamlessly integrated into a user-friendly experience across mobile, tablet, scanner, and web portals.
This integration can be achieved through a low-code/no-code platform, allowing your Business Analysts to create remarkable solutions.
Register now to secure your spot.
Get Started
 with
Swift
Sign up for Swift Start and get a fully functional Swift instance, pre-integrated with a JD Edwards demo instance. You can explore the pre-built apps available on Swift App Store, customize them or create your own from scratch and share them with your peers.
Join Swift

Online Training

Join us for the Online Training and learn to design, build, deploy and launch mobile and web apps in a matter of minutes, and how they are automatically integrated with JDE applications, orchestrations and databases without the need to write a single line of code.
Get

Swift

Certification

Swift Certified Consultants are responsible for designing, developing, launching, extending and managing Swift applications. Join some of the most innovative and reputed JDE professionals in the industry by getting your Swift functional or admin certifications.