July 6, 2008
Posted by:

admin

Categories:

Agile Applications, Agile Project Management, Blog, Communication, Enterprise Agility, Requirement Analysis
Are Software Artifacts like an inventory getting stale?
It is important to understand that there're no perfect business requirement specification – and any specification you make HAS to change even days or weeks after you've completed a detailed analysis phase. A very detailed upfront requirement specification is analogous to storing high upfront inventory in a warehouse getting stale every passing day.
Does Just In-Time Requirement Analysis save cost and increase output?
Given this fact, you need to apply a concept called 'Just In Time Requirement Analysis'. This however requires a candid and upfront sharing of the business domain, opportunities and threats with all stakeholders involved.
Having a high level business concept, architecture and scope is essential. However, brainstorming throughout the development life-cycle will then result in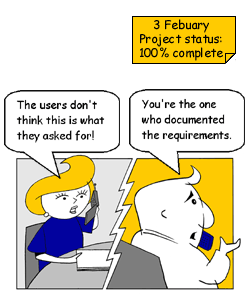 just-in-time requirements which are most relevant to the business. Supplement this JIT requirement analysis with a solid high fidelity prototype which can serve as a strong visual and contextual communication tool for the requirements between the users and developers.
High fidelity Prototype OR Detailed Documentaion?
Picture is worth thousand words… and a high fidelity prototype is worth more than tens of specification documents. A prototype which all stakeholders can touch feel and own will solve most of the issues related to requirement failures and change management chores. Change will be accepted and owned more easily and traced more visually.
Is Just-In-Time Just Right?
Just-in-Time Requirements analysis significantly reduces project risk and shortens development time. It ensures the most important parts of a system – as defined by the business stakeholders are being worked on at any given point in time and only defines requirements when they are needed. Yes, this is a paradigm shift from a more sequential waterfall-based approach.
JIT requirement analysis is one of the corner-stones of agile development philosophy. For more details read 'Requirements Modeling' whitepaper our Business Research team has prepared.