January 25, 2013
Posted by:

admin

Category:

Blog
GM opening up cars for app development.

At CES 2013, GM announced a new application framework and resources to let developers build apps for in-dash use.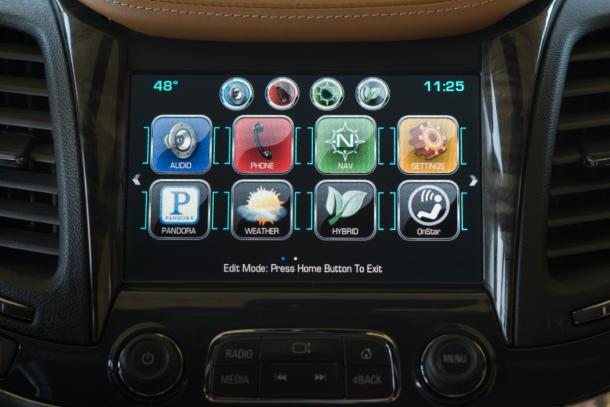 Chevy's new MyLink interface, launching in the Impala this year, adopts a smartphone aesthetic. (Credit: GM)
LAS VEGAS–On the same day that Ford announced its 
Sync AppLink developer program
, GM came out with its own take, announcing it would make APIs and other resources available so developers can build apps for the car.GM announced a new Web site, 
http://developer.gm.com/
, where developers will be able to download the SDK for its new app framework. It also demonstrated integration with iHeart Radio, TuneIn, Slacker, and The Weather Channel on the new framework.
GM plans on offering the new framework in some 2014 model year vehicles, which could come out as early as this summer. As GM builds up its library of apps, owners will be able to select which ones they want to use in their cars. Beyond current, popular apps, GM expects the open developer program to result in car-specific apps.
The current infotainment system in Chevrolet vehicles goes by the name MyLink, while Buick uses the name IntelliLink. Operating similarly, both systems offer advanced hands-free phone and digital music features, along with some app integration. The new framework will replace the current MyLink and IntelliLink systems, and also find its way into other GM brands. GM will show the new system in a Chevy Malibu during CES 2013.
GM's announcement comes amongst a flurry of app activity, from its Connected Car Challengeat the AT&T Developer Hackathon to additional app integration with its existing MyLink system in the Chevy Spark and Sonic. GM, which currently offers Pandora and Stitcher integration, withTuneIn Internet radio and BringGo navigation to follow this year, is playing catch-up with Ford, which now features a roster of almost 20 integrated apps.
Opening up the platform to developers could jump-start new features in GM vehicles. The SDK uses HTML5, an open standard currently being adopted in many different computing environments, and ensuring abundant developer expertise.
Ford introduces nine new apps for the car at CES 2013

Ford announced a new app developer program for Sync AppLink, along with a host of newly compatible apps, including Rhapsody and the Wall Street Journal.
LAS VEGAS–Over the past year, Ford announced a few new apps integrated with its Sync AppLink platform every quarter, bringing the total to 10. At CES 2013, Ford takes a big leap, adding nine apps to the car.
Drivers with Ford models featuring Sync AppLink will be able to use the following nine apps with their car's voice command and dashboard controls.
Wall Street Journal
USA Today
Kaliki
Amazon Cloud Player
Aha Radio
Rhapsody
Greater Media
Glympse
BeCouply
The newly compatible apps join the existing roster, which includes Pandora, Stitcher, NPR, and Scout navigation.
Ford divides compatible apps into three categories: News and Information, Music and Entertainment, and Navigation and Location. News apps, such as the Wall Street Journal, do not show article text on a display in the car, instead reading the stories out loud for the driver. Aha Radio not only plays music and podcasts, but also features location services, finding destinations such as restaurants on the road ahead for the driver.
To use the apps, the driver needs to have them installed on a smartphone, connected to the car by either Bluetooth for Android or a cable for iOS. The integration with Sync AppLink not only lets the apps play audio through the car's speakers, but also includes sophisticated voice commands. The driver will also be able to control the apps through a car's touch screen or dashboard controls.
Making Sync AppLink a global platform, Ford also announced a new partner in China, SINA, which will integrate its Weibo app.
Open invitation
Coinciding with the new apps, Ford announced a new program to make it easier for developers to integrate their apps with Sync AppLink. At the Ford Developer Program Web site, developers will be able to download the AppLink SDK, letting them engineer compatibility into their apps. The Web site will also offer forums and help from Ford engineers to integrate apps.
Ford will retain approval over app integration with AppLink, ensuring quality and appropriateness for the automotive environment.
Ford announced the developer program and the new apps during its press conference at CES2013.
GM sponsors connected car hackathon ahead of CES 2013
At the AT&T Developer Summit Hackathon this weekend, GM will sponsor the Connected Car Challenge, encouraging developers to build apps useful in the car.
Steve Ballmer famously chanted "Developers, developers, developers!" in 2000, and automakers have finally heard the call. GM will take part in AT&T's Developer Summit Hackathon this weekend, sponsoring a new Connected Car Challenge.
Developers at the Hackathon will have from noon Saturday until 2 p.m. Sunday to build their apps. Winners will be announced at 6 p.m. on Sunday, and some finalists will be selected to pitch their apps on stage during the Summit's keynote addresses on Monday.
AT&T says there will be more than $100,000 in cash and prizes at the Hackathon, including a Chevy Volt. Participants in the Connected Car Challenge can use AT&T's APIs and developer resources to build their apps.
In a press release, Mary Chan, GM's Global Connected Consumer vice president, said "We're particularly interested in apps and services that enhance the overall driving experience, vehicle ownership and uniquely leverage information about the vehicle."
GM has begun to launch app integration with its MyLink and IntelliLink systems for Chevy and Buick, although these systems integrate existing apps as connected services. The latest version of MyLink, which uses an interface similar to a smartphone, will come out in the Chevy Impala later this year.
Ford has sponsored two previous challenges at the TechCrunch Hackathon, the most recent in September, with developers using the Sync AppLink APIs to build apps compatible with Ford vehicles.
The AT&T Hackathon takes place this Saturday and Sunday at the Palms Resort in Las Vegas, just before CES 2013 takes over the city.