September 24, 2009
Posted by:

admin

Categories:

Blog, Client Relations, Communication, Human Resource Management, Relationship management
Communication (written or oral) is important in any organization. Management employs several modes of communication to give instructions to employees regarding the company's rules, policies, norms and culture.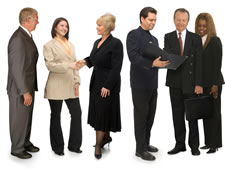 There are two ways of interacting with people. One is formal and the other is casual or semi formal. There are certain pros and cons attached with both the ways. The type of communication one wants to employ also depends on the occasion. Formal communication is needed in various instances, e.g. when a subordinate is reporting to his/her superior. Similarly, when you have to make an important announcement, business meeting, interacting with clients or when CEO/President has to communicate goals to the employees, a formal way is generally preferred.
Employees can opt for casual/semi formal way of interacting with each other but it is appropriate when they are at a certain level of understanding, otherwise issues of misconduct can arise.
Communication is imperative for the functioning of any organization. One needs to be vigilant about when to be formal and when to be semi formal while interacting with superiors, peers and subordinates. One also has to keep in mind that certain standards have to be met in the functioning of the organization, professionally. In my opinion, respect is the key for maintaining successful work relationship at every level anywhere in the globe.
Which mode of interaction suits you best and why? What are the pros and cons associated with each method?
Feel free to share positive experiences regarding the same.