January 24, 2012
Posted by:

admin

Category:

Uncategorized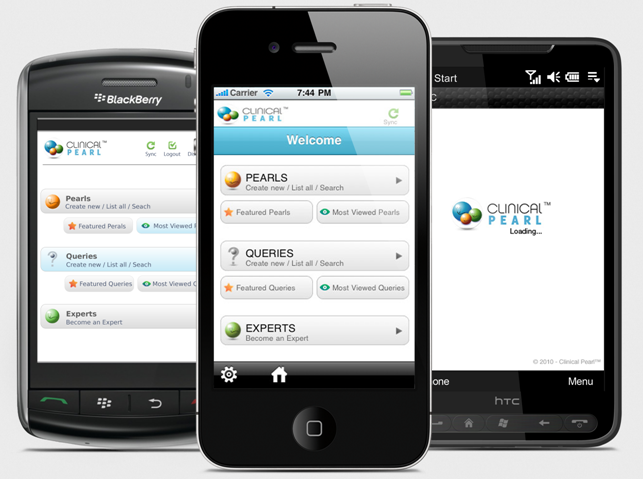 Necessity
Mobile Applications offer a competitive edge to companies which are technology driven and thrive on mobility. The healthcare sector today is one of the most mobile and technology sensitive industries. Ephlux presented its mobile application services package to Clinical Pearl backed by a long term sustainable road map.
Clinical Pearl is a network of physicians, residents, medical students, physician assistants and nurse practitioners that helps them document, organize and share their daily clinical queries and pearls.
The need was to develop and launch fully-featured iPhone, Blackberry, Windows Mobile applications (and Android in the future) for Clinical Pearl.
Innovation & Integration
Ephlux studied the system and assigned it's Business Analyst along with two developers to sprint the project. The first step was analyzing the existing web application and mapping its requirements to the Mobile Applications. The existing web application was developed in C# ASP.Net with MSSQL Server 2005 as the database. A replica of the existing database was designed and modified accordingly on SQL Lite and Server Impact for Blackberry, Windows Mobile and iPhone, so that the mobile application could connect to these databases.
The iPhone and Blackberry Application development were initiated in parallel with the graphic designer designing the User Interface for these varying Apps. iPhone, Windows Mobile and Blackberry have different user interfaces, which were catered delicately by the design team for optimum performance.
The customer was kept in a close loop via simulators as well as periodic builds on the actual devices. The design and development team worked very closely with the customer to cope up with any changes that could further enhance the applications.
Ephlux suggested several design and functional features both during the analysis and development phases that were made part of the system after client approval and appreciation. The Application allows doctors, experts and medical practitioners to keep themselves updated and on track at this community with latest drug analysis, Patient cases, medicine updates/reviews and other medical and healthcare related queries. This was achieved via two key features called Clinical Pearls and Clinical Queries.
The project was completed in 3 sprints (of a month each) and several iterations after which the mobile-apps were ready to Go-Live.
Liberation And Success
The mobile applications created have liberated busy physicians and medical practitioners from having to sit in front of their workstations while documenting their pearls. The slick and highly intuitive mobile application interface helps in providing 'zero-intrusion' usability, perfectly meshed with the dynamic and mobile work-life of physicians and medical practitioners.
Not only does the application provide convenience and efficiency for existing members but also offers a very attractive incentive for new members to join the network.
During the early-adoption tests conducted by Clinical Pearl, the ability to be used anywhere with an effortlessness, non-intrusive usability was acknowledged and appreciated by members as the main reason for embracing mobile applications.