Ephlux exhibiting at Blueprint 4D in Hilton Anatole - Dallas, Texas
Ephlux exhibiting at Blueprint 4D in Hilton Anatole – Dallas, Texas
Meet Ephlux Swift in-person from May 8 – May 11, 2023 at Blueprint 4D Hilton Anatole in Dallas Texas! at
booth # 715.

Come by and attend our sessions where our customers will be sharing the experience they're having with Ephlux,
Swift – JDE low-code, no-code mobility and app + process automation platform
What to look forward to at Blueprint 4D this year?
Learning Objective 1: How you can Leverage the automation, optimization and transformation of JD Edwards Release 23 and Orchestrator
Learning Objective 2: Combine the power and simplicity of low code, no code app automation of Swift with AIS, Orchestrator and Release 23
Learning Objective 3: Eliminate manual tasks, improve customer experience, agility and take advantage of the combination of this amazing digital toolset.
Learning Objective 4: Learn JD Edwards Mobile Strategy by using the Orchestrator. 


Find Ephlux's Booth # 715 at Blueprint 4D
Blueprint 4D Event Highlights
First day here at Blueprint 4D and what we've witnessed was yet another unexpected wave of demo's covering a range of customers and potential partners! 
If you missed your chance or got caught in between one of our demo's, feel more than free to stop by any other time this week as we've still got a few more days to go!
The second day at Blueprint4D has come to a close.
We experienced back-to-back customer demonstrations, and their level of interest was exceptionally high.
Based on our previous experience in Vegas, we expected a significant number of visitors at our booth. However, what actually happened exceeded all our expectations.
The response we received has filled us with immense joy, and we feel both overwhelmed and humbled by it. It is always advantageous when our current customers bring others to demonstrate the success they have achieved.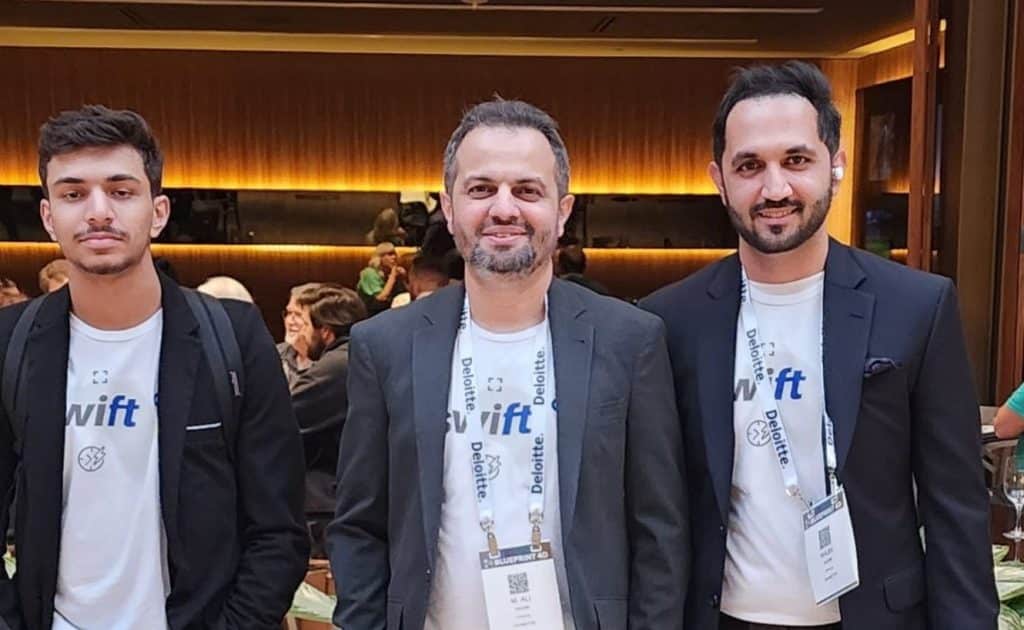 What a wonderful end to Blueprint 4D with customers fully resonating with the value proposition of Swift JDE low code/no code mobility and app automation platform. We had a total of 36 demos (15 min each on avg) with some of the top JDE customers. We now have an army of customers and partners ready to embrace Swift.
Locate the Swift flag to find our booth at K1 and get a chance to WIN iPad mini or Apple Watch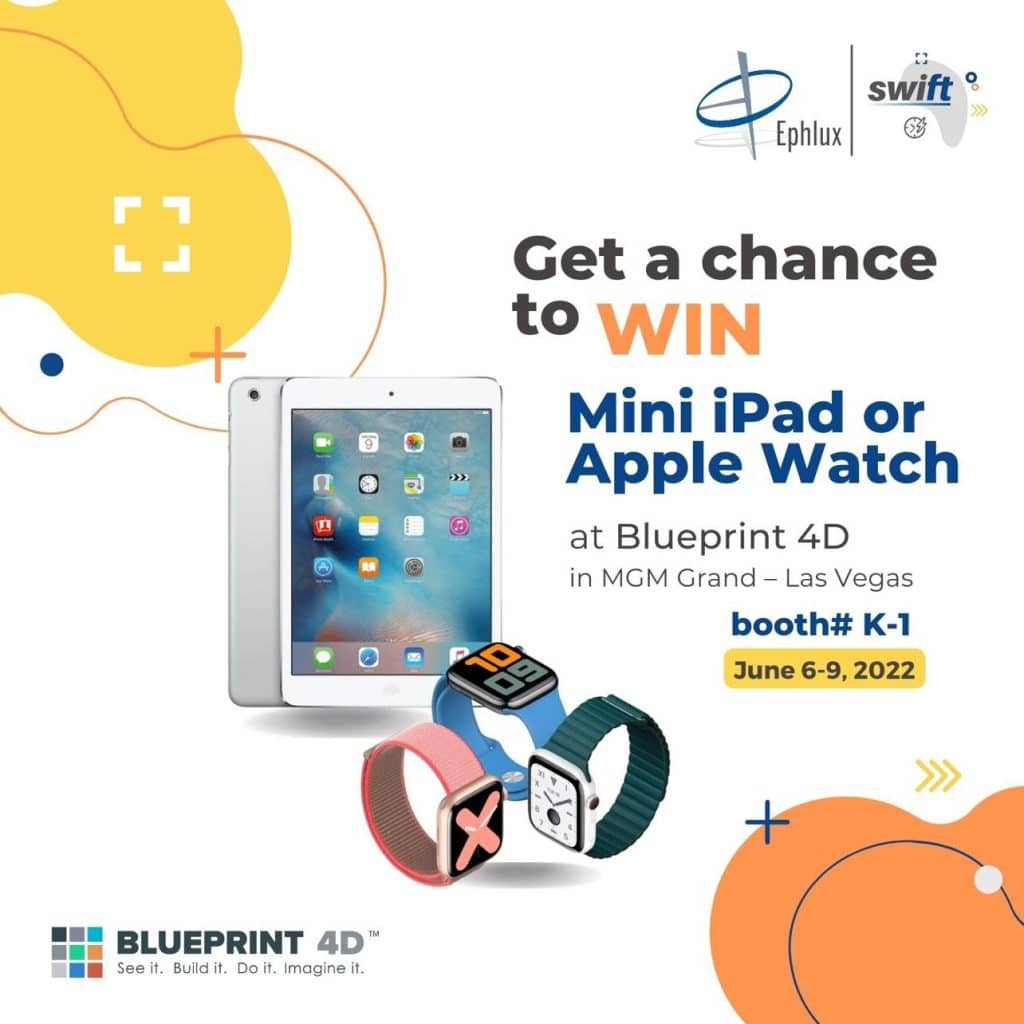 Get a chance to win iPad mini with Swift JDE apps installed or Apple Watch at Blueprint 4D in MGM Grand. Locate the Swift flag on the exhibition floor to reach Ephlux booth K-1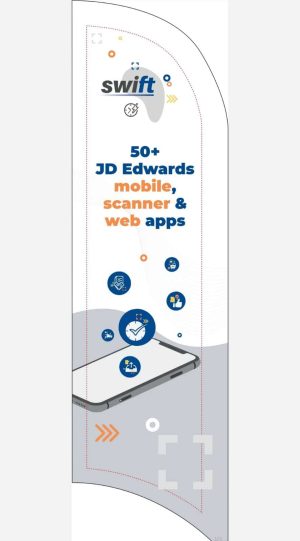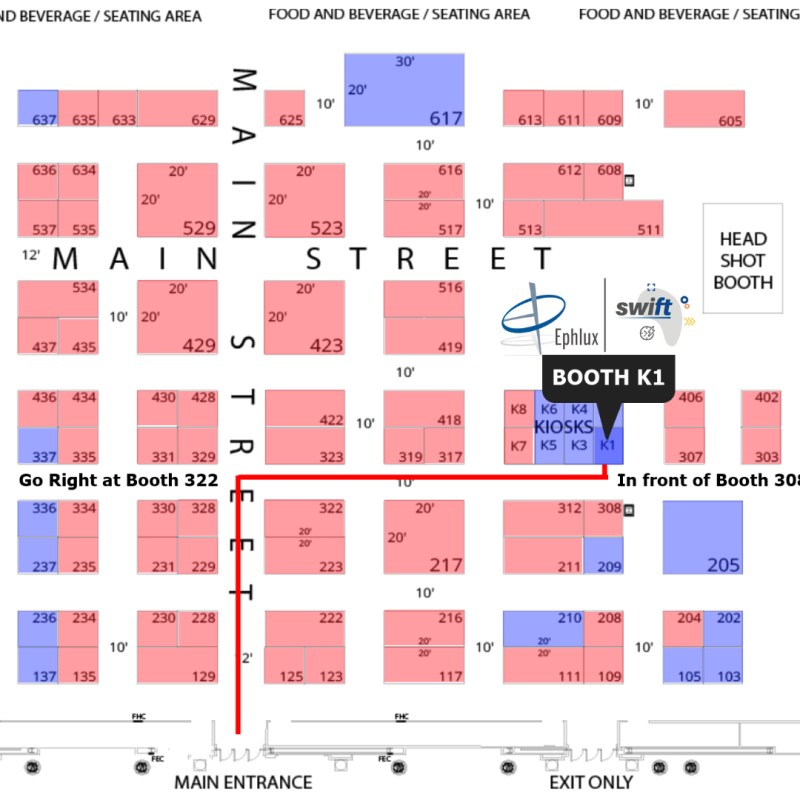 Locate our Swift flag or follow this map to find our booth at 715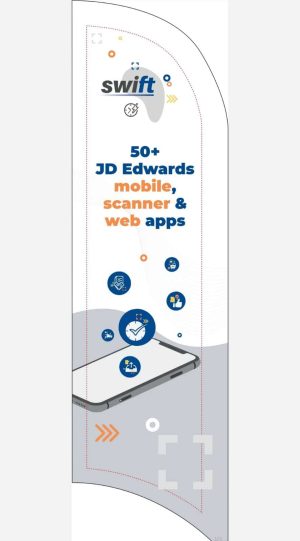 How Yamana Gold Created their Mobile PO Approval App using Swift - Low Code / No Code and Orchestrator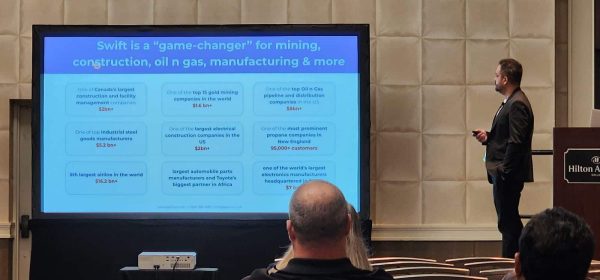 Presented by: M. Ali Nasim
Learn how Yamana Gold leveraged the use of
Swift's – low code / no code app automation platform and Orchestrator to create their Mobile PO Approval application in a matter of days,
helping them achieve:
1. Efficiency – Up to 25% faster approvals due to Mobility
2. Customer Satisfaction – Up to 25% increase in Customer Satisfaction Score.
3. Multilingual support – Coverage of 5 languages on the platform
Attend Blueprint 4D session "Orchestrating Mobile Applications" presented by Ervin Rhodes, Oracle & and customer success story by James Horvath – Plano Synergy using Ephlux Swift and Orchestrator for launching mobile applications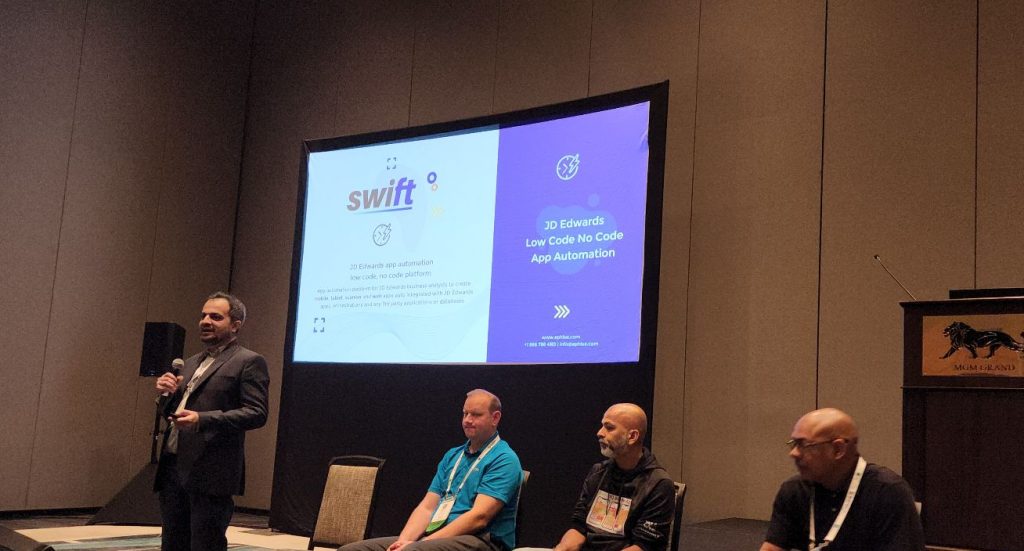 Orchestrating Mobile Apps
JD Edwards has invested heavily in the Orchestrator as a way to connect external applications and interfaces with JDE business data and logic. Mobile application interfaces are a great use case for this model. 
Customers and partners can now leverage their front-end development tool of choice, such as Ephlux Swift to create a mobile user interface that connects to JD Edwards business data and logic through orchestrations. 
Come join us for a panel discussion featuring JD Edwards partners and customers sharing their real-life experiences of creating mobile applications.
June 9th, 2022 - 10:15 am PST
JD Edwards Mobile Strategy
by Ervin Rhodes, Product Manager – Oracle
By combining Ephlux Swift with the JD Edwards Orchestrator, organizations can create custom mobile apps that leverage the power of JD Edwards. These apps can be used for a variety of purposes, including scanning barcodes, capturing data, and performing transactions. They can be deployed on both iOS and Android devices, providing employees with access to critical business data on the go.
Overall, the Oracle JD Edwards Mobile Strategy of using low-code/no-code tools like Ephlux Swift with the Orchestrator provides organizations with an efficient way to automate, digitize, and mobilize JD Edwards functionality. By creating custom mobile apps, organizations can improve productivity, reduce errors, and provide employees with access to critical data from anywhere, at any time
Check out the advantage of Mobility Solution by James Horvath Senior Director IT – Plano Synergy
Listen to James Horvath, Senior Director, IT for Plano Synergy how they utilize Ephlux Swift with JD Edwards Orchestrator to launch multiple mobile apps across various functions.
What is Swift?
Swift is a low-code, no-code JD Edwards app automation platform that enables any JD Edwards Business Users / Analyst to create highly functional and user-friendly mobile, tablet, scanners, and web apps that are automatically integrated with JD Edwards and 3rd party apps and databases without writing a single line of code. Swift is fully integrated with the Orchestrator and provides the perfect combination of app automation with Orchestrator's business process automation.
Swift is for JDE app automation , what Orchestrator is for JDE process automation.
Get Started
 with
Swift
Sign up for Swift Start and get a fully functional Swift instance, pre-integrated with a JD Edwards demo instance. You can explore the pre-built apps available on Swift App Store, customize them or create your own from scratch and share them with your peers.
Join Swift

Online Training

Join us for the Online Training and learn to design, build, deploy and launch mobile and web apps in a matter of minutes, and how they are automatically integrated with JDE applications, orchestrations and databases without the need to write a single line of code.
Get

Swift

Certification

Swift Certified Consultants are responsible for designing, developing, launching, extending and managing Swift applications. Join some of the most innovative and reputed JDE professionals in the industry by getting your Swift functional or admin certifications.