December 16, 2009
Posted by:

admin

Categories:

Blog, Health at Workplace, Human Resource Management, World Economics
This question is about the 2 hours of your day that you almost never utilize right, or get to enjoy, all your life. Yes, the part about your life that you abhor the most, traveling to your workplace.
Most people find it pressurizing and tense, to say the least. Some (veeeeerrrrry few) might pretend to enjoy it, but lets face it, traveling to work, esp. in the morning rush hour, is something we all wish would go away somehow.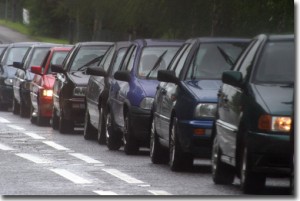 What workarounds have you found to avoid it all together? (apart from quitting your job :S). Also, cant we have teleporters like Star Trek, that help us 'energize' to work? Scientists work on tetra hedron colliders, WMDs and satellites all the time, why not do teleporters first, and save up on all the energy/fossil fuel wastage too?
I mean, going to the same place every day, burning fossil fuels that take thousands of years to create beneath the earth, and then coming back to right where you were in the night, isn't that just plain stupid? :S
Gas fares, driving, pollution, keeping up with traffic, signals, snob drivers. The biggest horror – public transport, be it the subway, trams, taxis or buses. Makes you feel like work is a terrible place to go to, when you wake up in the morning 🙁
Seriously though, how do you cope with all this. Furthermore, do suggest ways of lessening the stress created while commuting to/from work, n ways of reducing the time required for it.
Suggestions appreciated (and badly needed too!)
z