October 14, 2013
Posted by:

admin

Category:

Blog
If you want your business to not just be competitive but also to stay ahead of the competition, you should put your focus on cloud computing. Having your business on the cloud is essential in taking the edge over your competitors and staying in the lead.
Cloud computing is no longer just the 'in thing', same goes for Big Data analytics. They are both together, as well as on their own vital in delivering the best to your customers. And we all know that's what works for business today.
Relying on software applications for essential functions has been the norm for many years now. But the way they're deployed has changed radically as the years have passed.
For this you always have to incur upgrading and maintaining costs for software applications, which eats up a significant chunk of your IT budget.
Hey look! There's a Cloud
Now you can look up to the Cloud to solve all your software issues. Cloud computing has given you the option to virtually outsource your software applications.
You might be thinking about all the risks people relate to the Cloud and the security issues that come with it. That perception is gradually going away as newer enterprise applications get released and large scale organizations invest into the Cloud.
Even the government is giving the Cloud a seal of approval. The US government's Federal Cloud Computing Initiative is a clear sign that the traditionally risk averse and security conscious establishment is moving with times and keeping its edge. The Cloud Computing Initiative has done an impressive job in shifting the government's workload from traditional data centers towards public and private clouds.
April's Congressional Research Service report states that:



Enterprise application vendors are still earning their bucks from physical, on-premise solutions but most of them are now also rolling out cloud based applications. They have also come to terms with the fact that the future for enterprise apps lie in the cloud.
Look for the cloud to get bigger and bigger as an IDC report predicted 3x growth in five years



Cisco projects the cloud to grow by a factor of twelve by 2015.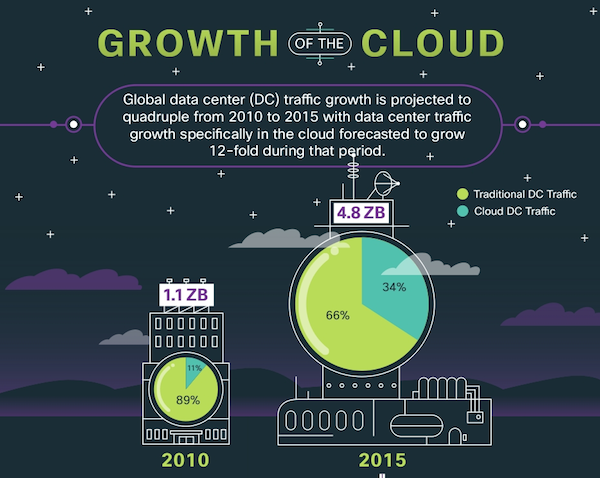 Big Data Analytics – Improving Your Journey
Data is everywhere. Captured every second, every minute, every day, all the time. But what's the use? Analyzing it with a broad based approach and interpreting the results to boost returns is vital but a tough ask for businesses.
Big Data can give you details about customer preferences and purchasing patterns allowing you to customize your offer to a personal level. Giving your customers a personal experience will only result in better loyalty for your brand and boost it to new heights.
Applications like Oracle's in memory database solutions are altering the way we deal with Big Data. They allow us to use data like never before. You can now capture and do predictive analytics on huge quantities of data in real-time, enabling you to deliver what your customer wants, before him even telling you. A customer experience that wows has gotta be best for business, right?
Big Data applications are now easily available and have gained popularity as they help businesses grow and keep up the pace with their customers.
Gear up and get ready for the Cloud
The choice is yours for the public or private cloud, but the advantages you'll get from a cloud framework will leave you awestruck.
The first step for you is to understand the difference between cloud computing, hosting services and onsite management. Examine how each of them fulfill your business needs for scalability, agility and customization. See where you stand, and decide how a move towards the cloud will profit you.
IT platforms are all headed towards the cloud. You should also explore ways to capture and analyze your data. These two put together are essential to give your business an edge over the competition.
As all roads lead towards the Cloud and Big Data Analytics, how do you think you can take your business to the next level with these new technological innovations?