June 12, 2009
Posted by:

admin

Categories:

Blog, Entrepreneurship Profiles
"To enable people and businesses throughout the world to realize their full potential."
Microsoft Mission Statement

William (Bill) H. Gates is Chairman of Microsoft Corporation, the worldwide leader in software, services and solutions that help people and businesses realize their full potential.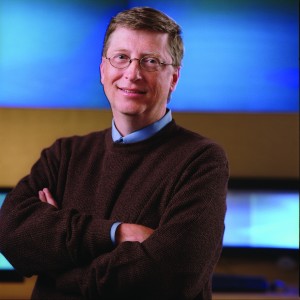 Born on Oct. 28, 1955, Gates grew up in Seattle with his two sisters. Their father, William H. Gates II, is a Seattle attorney. Their late mother, Mary Gates, was a schoolteacher, University of Washington regent, and chairwoman of United Way International.
Gates studied in public elementary school and private lakeside school. During his school life, his interest developed in software and he began programming computers at an age of 13. In 1973, Gates entered Harvard University as a freshman, where lived down the hall from Steve Ballmer, who is Microsoft's Chief Executive Officer. At Harvard, Gates developed a version of the programming language BASIC for the first Microcomputer- the MITS Altair.
When he was 20, he left Harvard in order to devote his energies to Microsoft, company which he had begun in 1975 with his childhood friend Paul Allen. They began developing software for personal computers as they thought; their combination can obtain astonishing results in the software industry.
The leadership of Bill Gates has enabled Microsoft to continuously improve and advance software technology aiming to make it easier, cost effective and enjoyable for people to use it.
The success of Microsoft began with the MS-DOS computer operating system that Gates licensed to IBM. Gates also set about protecting the royalties that he could acquire from computer software by aggressively fighting against all forms of software piracy, effectively creating the retail software market that now exists today. This move was quite controversial at the time as it was the freedom of sharing that produced much innovation and advances in the newly forming software industry. But it was this stand against software piracy that was to be central in the great commercial success that Microsoft went on to achieve.
In 1999, Gates wrote Business @ the Speed of Thought, a book that shows how computer technology can solve business problems in fundamentally new ways. The book was published in 25 languages and is available in more than 60 countries. Business @ the Speed of Thought has received wide critical acclaim, and was listed on the best-seller lists of the New York Times, USA Today, the Wall Street Journal and Amazon.com. Gates' previous book, The Road Ahead, published in 1995, held the No. 1 spot on the New York Times' bestseller list for seven weeks.
His creativity and hard work has enabled him to become one of the wealthiest persons of the world. Despite of losing $18 billion in the past year, Microsoft Corp. co-founder Bill Gates reclaimed the title of richest man in the world, with a total net worth of $40 billion.
Gates was married on Jan. 1, 1994, to Melinda French Gates. They have three children. Gates is an avid reader, and enjoys playing golf and bridge. He and his wife, Melinda, have endowed a foundation with more than $28.8 billion (as of January 2005) to support philanthropic initiatives in the areas of global health and learning, with the hope that in the 21st century, advances in these critical areas will be available for all people. The Bill and Melinda Gates Foundation has committed more than $3.6 billion to organizations working in global health; more than $2 billion to improve learning opportunities, including the Gates Library Initiative to bring computers, Internet Access and training to public libraries in low-income communities in the United States and Canada; more than $477 million to community projects in the Pacific Northwest; and more than $488 million to special projects and annual giving campaigns.
"I believe that if you show people the problems and you show them the solutions they will be moved to act."
Bill Gates
Reference Link:
http://en.wikipedia.org/wiki/Bill_Gates