December 5, 2014
Posted by:

admin

Category:

Blog
Now that we know how important the absolution of customer experience journey is, let's look into putting that theory into practice. The CEJ can be turned into a reality if using the right tools – connecting the people and the processes in the perfect context.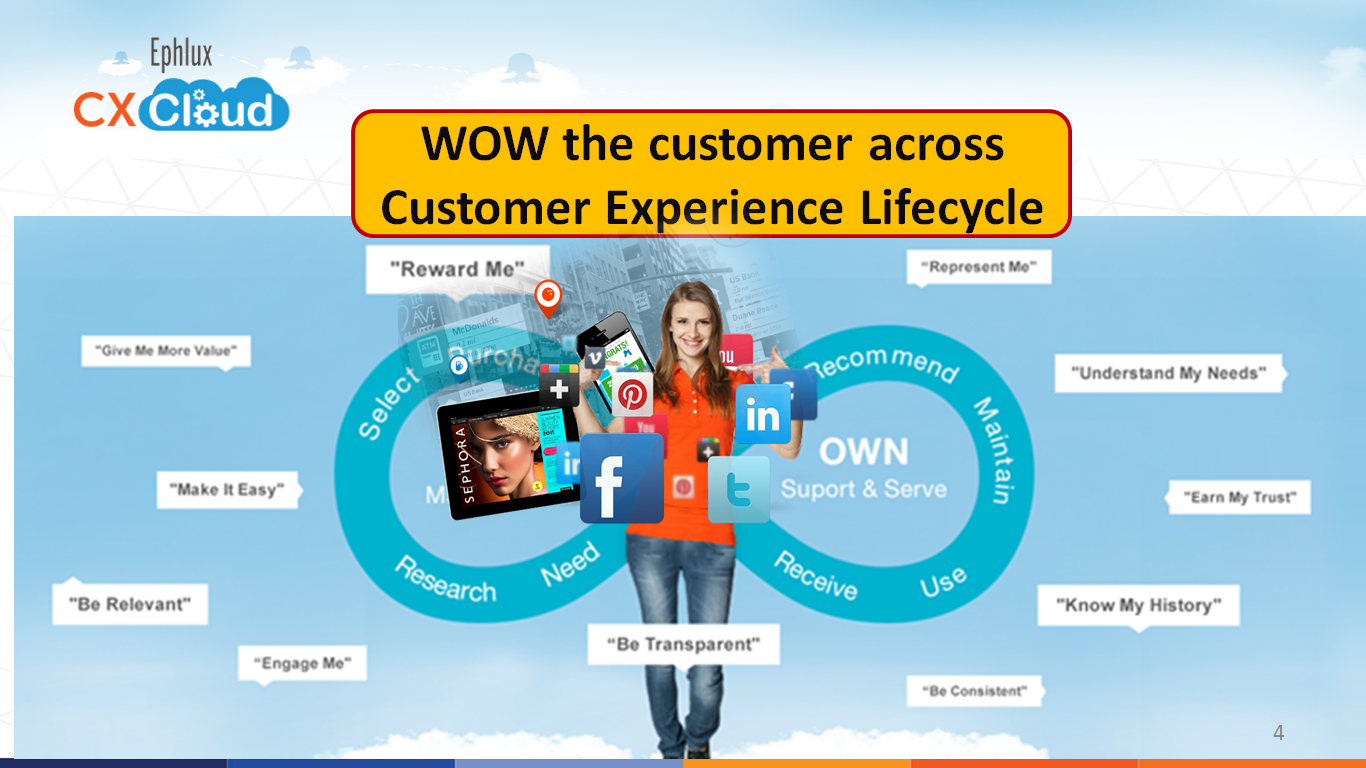 Today's customers are becoming more demanding, determined and often drive a hard bargain. They utilize multiple channels and touch points to interact with organizations. Today's customer has evolved and all the more reasons to wow him with the complete experience.
A little about the evolution of this customer that has coaxed the organizations to take a complete turn and re-strategize and centralize their world onto him/her –
• 2004 marked the first year that multi-channel shoppers became a majority.
• 65% of all shoppers now shop and browse both online and off.
• 51% characterize themselves as active cross-channel shoppers. (Forrester Research)
So, what's causing the real heat in this new customer experience journey?
• Creating a Branded Customer Experience throughout all stages of the customer journey and all channels used, to reduce the risk of creating a disjointed experience. This is done by determining needs and expectations by key touch-points, by channel, and by key customer group.
• Measuring systematically and intuitively the performance by touch-point and assessing how customers think and Feel (rational and emotional) in line with Brand strategy and "living the brand". This is achieved by recognizing key customer groups and opportunities to create value and enhance profitability throughout the journey and at all touch-points.
• Caring about the Post-sales relationship you never bothered about before. This is done by developing personalized approaches to tune the relationship into a melodious note. With follow-ups and special attention, the customer is bound to be part of the loyalty programs.
Who said it would be easy? Building a relationship with your customers can be like upbringing of a child – everyone will be out there giving you parental (business strategy and customer relationship) advice, but you've got your own style. Nurturing your customers will vary with season and loyalty, and you've often got to give it sleepless nights to help thrive the health of your relationship. To be there at the right moment to see your child smile (your customer satisfied), requires some homework and agility on your end. It doesn't have to be a fancy dinner, but it's their favorite, you've earned the hug (loyalty!).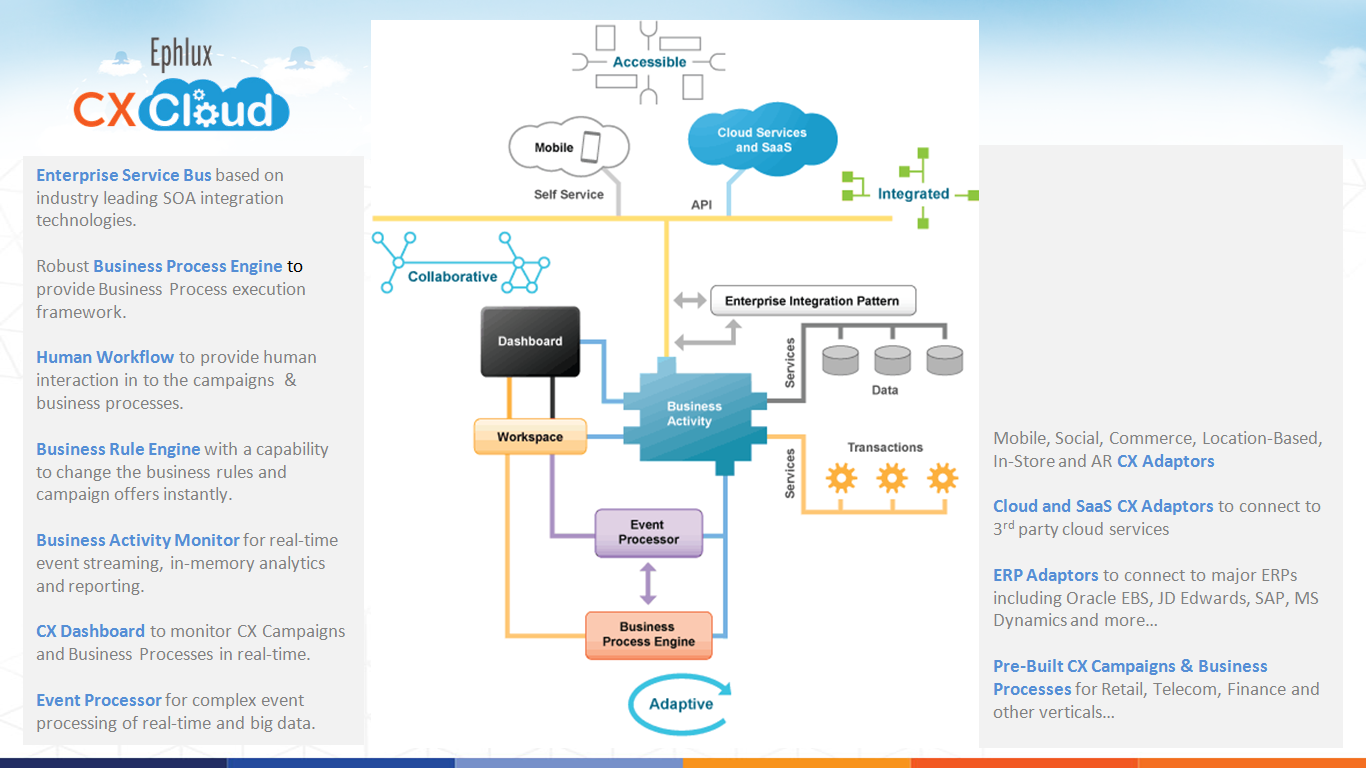 On the other hand, it isn't something to be apprehensive about – it's important that you're wary and a
ware rather than worried. Looking at it with an outside – in approach, here's what organizations need to do:
• Get results – customer experience metrics follow-up
• Validate – the entire organization is on the same page!
• Customer Traffic – Turn the green light on for your customers and read them well.
• Employee empowerment –with decision-making rights to set idealistic goals for the future
• SSS – Be Smart, simple and systemic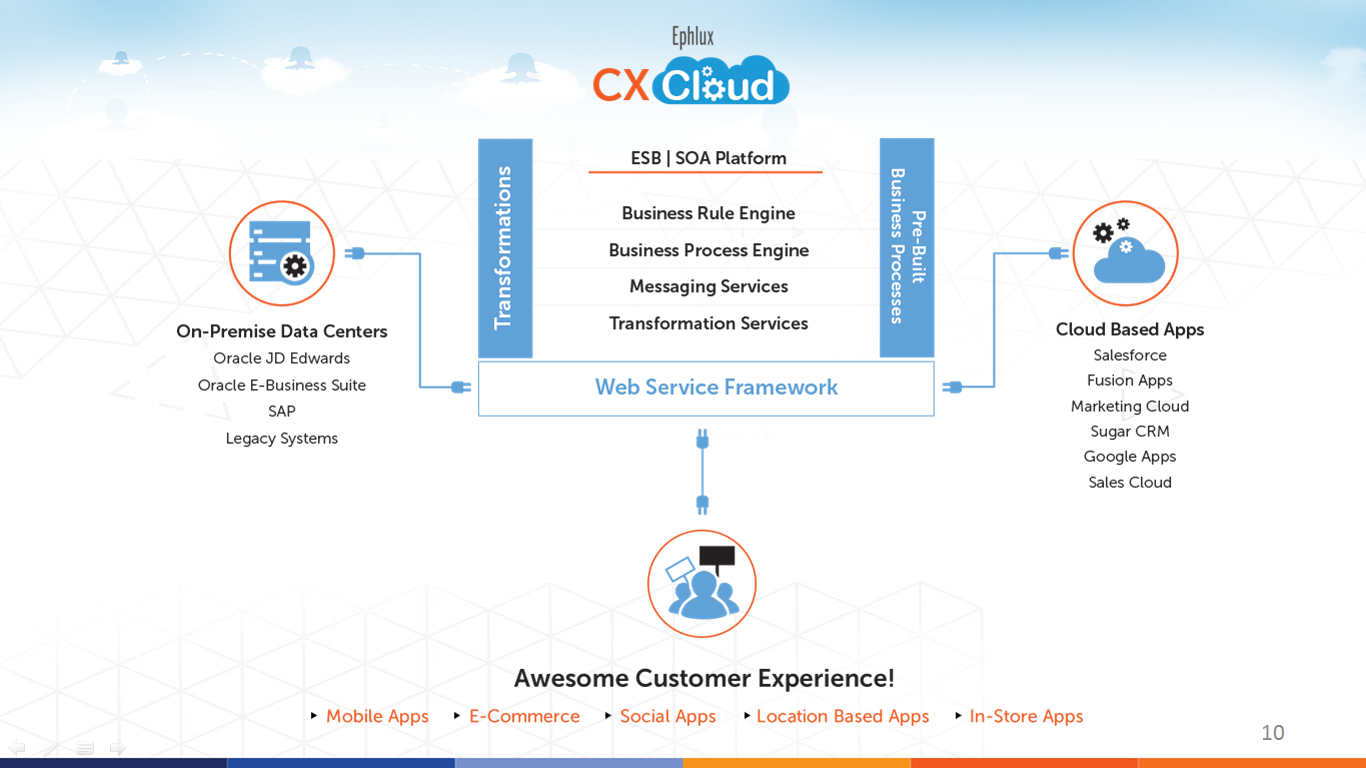 Ephlus's CXCloud is that complete solution – a single product suite providing Big data, real-time, in-memory analytics | Real-time monitoring & dashboard | Integration with backend ERPs and mobile, social, location-based and in-venue touch-points. An architecture that enables seamless integration and valuable real-time services, and features that set the business processes into play-mode, but stays in tandem with the growing expectations of the people! This is how a customer experience journey can be turned into a reality – bringing the dreamt-of experience to life.
———————————————————————————————————————————–
CX Cloud – Creating Awesome Customer Experiences across Industries