December 24, 2012
Posted by:

admin

Category:

Blog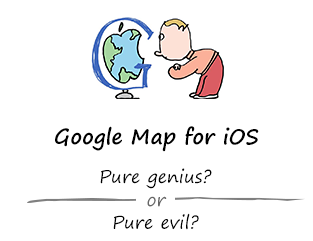 Google launched its most awaited native map APP for iOS at the time when users were heading to the wrong cities & falling off warped bridges.
This malfunctioning of the iOS Maps, genuinely increased the demand for Google Maps and the App topped the iTunes chart when 10 millions apps were downloaded within 48 hrs after its launch.
Though it is quite evident that Google isn't making money through its latest addition to iTunes, one would question as to why would Google throw its chief rival life preserver this week and deliver Google maps to iOS.
The answer to this question lies behind two main reasons:
Potential  advertising. Google primary objective can be to get its services in front of as many eyeballs as possible even if those eyeballs are peering into the rival's product.
Insights. Insights will help them make more effective products. For instance, Google maps is every marketers dream. Mapping app gives the most vital customized insights about consumer behavior a company could achieve. Through those apps, Google will get access to analytics of the millions of iPhone users.
"Google is hardly the first company to aggressively support a rival platform for selfish reasons," says Ryan Tate at Wired.  Is it justified to label Google's actions as selfish? Or is it pure genius on Google's part? What are your thoughts on the matter?