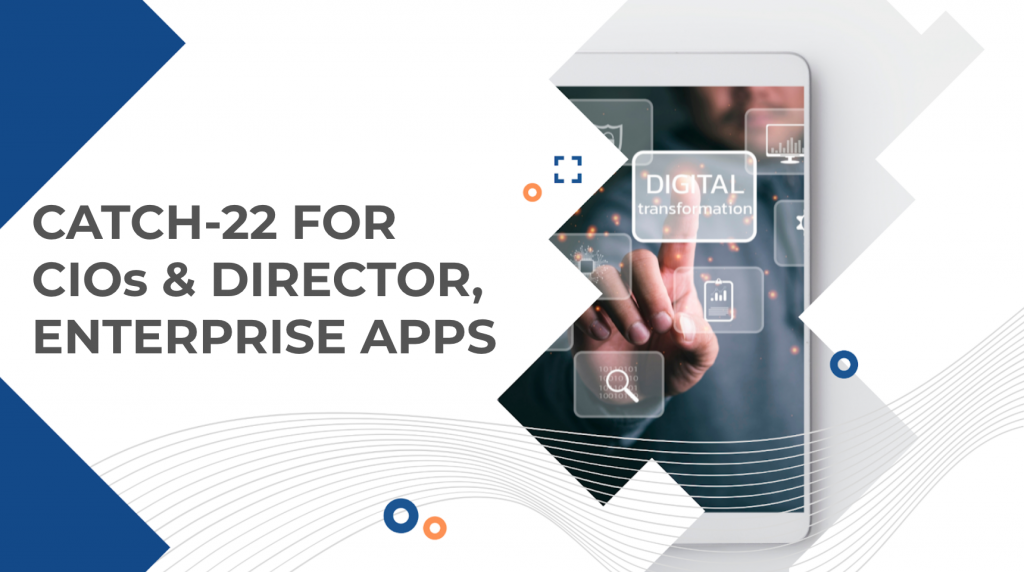 THE APP AUTOMATION DILEMMA
THE CATCH-22 MOST CIOs AND DIRECTOR, ENTERPRISE APPS CURRENTLY FACE
In the aftermath of covid, one change that is more significant on enterprise IT than others, is the scrutiny of how much time, money and resources companies are willing to commit to custom enterprise app development and integrations.
What used to get easily approved as 'several months', 'several developers' and 'several hundred thousand dollar' projects, now get questioned more than ever.
To add to the irony, there is more business demand than ever for new and alternate digital experiences for customers, employees, and suppliers supported by automated processes and apps across all major business functions.
HOW TO BREAK THIS CONUNDRUM?
To break this conundrum, IT leadership is scrambling the market and challenging their in-house teams and vendors for answers.
At Ephlux, with our past life with startups who usually had just 3 months to create a new innovation to survive, and our current work with large enterprises for their complex ERP, integration, mobility and IoT projects, we understand this challenge and contradiction better than most in the market.
Here are the key questions to ask:
Should you leverage your JD Edwards ERP to extend it or build a standalone app and then integrate using Orchestrator?

Should you build the apps from scratch or use an app automation platform?

Should the apps be device and cloud agnostic, native mobile apps or progressive web apps?

Should your business process be in the middleware or embedded in your enterprise apps?

Should the same platform support all end-user mobile, scanner, tablet, web and alternate digital experiences for customers, employees and partners?

What to keep on-prem and what to use from the cloud, and how to build an app architecture that is hybrid yet fully secure?

How does emerging technology like IoT, AI/ML, RPA and AR apply to your business apps and processes?

Should you use citizen development (No Code) or stick with your current development practices?
These few questions are critical to whether your IT roadmap moves forward into the future or stays stuck in the past.
Usually, the solution doesn't lie in 'one-big-bang architecture', or 'big migration to cloud' or even 'one major vendor outsourcing' or 'technology decision'.
It's a continuum of intelligent decisions across your enterprise apps, middleware, mobility, development practices and emerging technologies based on a holistic view of your business and enterprise architecture.
HOW AND WHERE TO START?
Having helped multiple enterprises and mid-market organizations esp. those with JD Edwards as their 'system of record' navigate this path across industries and geographies, we have some wisdom to share.
Here's what we've come across in the past 5 years:
Mobile apps for sales orders, field reporting, PO approval, inventory transfers and 50+ mobile use-cases. 

Customer, Vendor, and E-Commerce portals and employee intranet portals integrated with JD Edwards. 

Integrated complex CRM processes with JD Edwards. 

Embedded IoT and ML with asset predictive maintenance processes on job site using Orchestrator.

IoT embedded in manufacturing shop floors and integrated via Orchestrator for Industry 4.0

AP automation and more. 
All all of this, while exploiting the most from their existing on-prem, cloud and hybrid infrastructure, we've had the privilege of playing a key role as an implementor and a trusted advisor to some of the most complex and well-known organizations in helping them with solid success.
As a result, we've built some strong roadmaps on how to most effectively get on the app automation journey, while leveraging the maximum from the existing investments on the cloud, on-prem, middleware and on the development teams both in-house and with existing vendors. 
We now use this knowledge and experience to conduct "deep-dive assessments" and provide recommendations to the CIOs and Director Enterprise Apps of companies esp. those using JD Edwards as their system of record.
RISE OF ALTERNATE USER INTERFACES AND SUNSET OF JDE MOBILE APPS
A lot of JD Edwards customers have turned to us after the sunset of JD Edwards mobile apps to consult as to what should be their strategy moving forward.
Although, most of them have a handful of initial use-cases, they're rightfully questioning whether to continue on the same old path of ad-hoc, band-aid style mobile apps, or embrace this broader trend of app automation, low-code, no-code citizen development now being offered by all sorts of different vendors.
Having worked extensively on multiple mobile and web frameworks across open-source (Angular, React etc.), native iOS and Android apps and app automation offerings like MS Power Apps, Mendix, Oracle VBCS and Ephlux Swift, has helped us understand the pros n cons of each, and how they co-exist with JD Edwards ERP using AIS, Orchestrator and BSSVs and with other SaaS and on-prem apps, middleware, IoT, AI/ML and RPA offerings.
APP AUTOMATION FOR DEVELOPERS, FOR BUSINESS ANALYSTS OR BOTH?
The other key question we help answer with our assessment is whether your app automation strategy be focused on your developers, your business analysts (and power user) or both? 
This question is critical to set the right expectations from your app automation platform. The ones targeted to Developers are still going to require the conventional software development lifecycle, timelines and budgets, while the ones targeted solely towards Business Analysts might have their own limitations. 
This is where you need an expert view on what approach to go for and how to combine them with a strategy that works best for your business in both the short term and long.
PROGRESSIVE WEB APPS OR NATIVE APPS?
One of the easier choices to be made is whether to go with Progressive Web Apps (PWAs) or stick with creating native device specific apps. 
This one is a rather easy choice, because in addition to all the benefits, there are no real compromises to be made when you go with a PWA using technologies like React as they can also be provisioned as native apps across a variety of platforms, devices and screen sizes.
TIME TO GO DEVICE AND CLOUD AGNOSTIC
GO DEVICE AGNOSTIC 
There is invariably  an increased business demand for apps across mobile, tablet, scanners, desktops, large TV screens and even wearable devices like smartwatches with voice user interfaces.
If there ever was a time to go device-agnostic with your app automation strategy, it is now – and the great news is there's tons of technology that now supports you to 'build once, run anywhere' across your enterprise and devices.
GO CLOUD AGNOSTIC
Not only should your app strategy be device agnostic, if you think clearly, it should be equally cloud agnostic i.e. the apps you build should run on any cloud offering including Azure, AWS, OCI, IBM Cloud, Rackspace and even private cloud and on-prem.
The app automation platform should be fully containerized and 'ready-to-run' on the cloud, on-prem or hybrid while co-existing with your current ERP systems (such as JD Edwards) and other IT infrastructure.
Find a 30 min. slot from the calendar to explore if we're a good fit to help with your "app automation assessment".
TAKE ACTION
Find a 30 min. slot from the calendar to discuss your app automation strategy.
If we both decide there's a good opportunity for us to help you, we'll conduct a 40 hour deep-dive "app automation assessment". 
The assessment will leave you with:
Making the best use of  your current infrastructure, in-house teams, current vendors.
An app automation architecture and a POC to intelligently leverage the app automation technology offerings in the market.
A practical roadmap to execute on your app automation strategy.