December 3, 2013
Posted by:

admin

Categories:

Blog, Enterprise Agility, Enterprise Services, Enterprise Software
Online stores are the latest in mission-critical businesses – owing to their being significant revenue drivers, the e-commerce websites are gaining traction and attention. Now, it is not just important to have an e-commerce website, but instead the struggle for a more sophisticated application that best meets their current and future needs should carry on.
The Hype
To select the perfect e-commerce application for the long term can be a daunting task – to base a decision on both current requirements and a vague, undetermined set of future needs that have not yet even hit the planning stages is intimidating. The trickiest part is where the e-commerce website looks pretty straightforward, but in reality the common and expected features belie a complex set of capabilities required to keep best-in-class Web stores appealing, responsive, and performing well at high transaction volumes over the long term. The difference between e-commerce application capabilities can spell the difference between an e-commerce site's success and failure.
The Dilemma that dwells
With such complexity in place, most web development projects involve some kind of 3rd party vendor integration, be it for adding the latest must-have consumer features, ensuring you have the appropriate site analytics and marketing metrics, or integrating your business process applications into your website. The ecosystem of ecommerce and business applications has evolved: highly specialized vendors now offer every kind of specialty tool, plug-in feature and business operations application imaginable and still new applications are appearing every day.
Know the Direction and Walk it
So, here enters another dilemma where you have to now choose the appropriate third-party vendor for the optimum solution. The diagram below lists some of the capabilities and features that you should expect from a good integration. Also, be wary of the value that the integrated e-commerce solution should provide.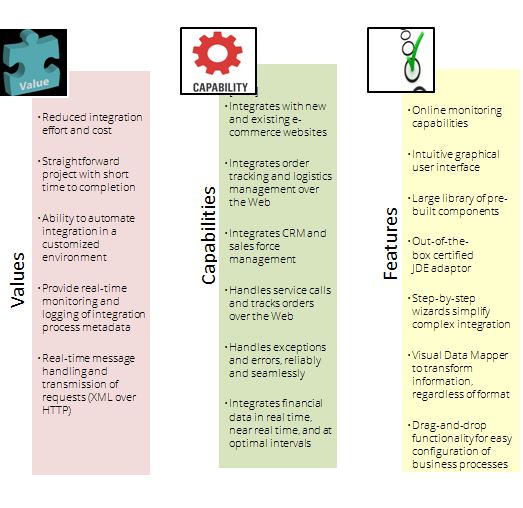 In a nutshell, there is a vast world of powerful and compelling third-party vendor tools and applications that each requires seamless integration into the ecommerce website. Selecting the application that will result in an engaging, seamless, and unified experience for the consumer and your internal staff is a responsibility that needs to be well-handled.
With Ephlux and its vast experience of e-commerce solutions, you can expect a quality website and integrated solution with JD Edwards. Have you implemented an e-commerce solution already or are you planning to tread that road now? Share with us your experience or your plan for implementation, as we are here to listen and help.