October 28, 2013
Posted by:

admin

Category:

Blog
Twitter is going public! And unlike the other big social media giant Facebook, they're not hyping it up. With a recently released initial share price of $17-$20 – valuing the company at around $11 billion when analysts projected a valuation of $15 billion – Twitter is trying to mellow down expectations from its initial public offering.
But no matter how much they try, they're currently the talk of the town, and that town is Wall Street. People are talking about the IPO even if they're not even sure of what Twitter exactly does.
What's micro-blogging? Why just 140 characters? You can write anything and everyone can see it? Where does the money come from? Those are the kind of questions people are asking.
To people like me, who use Twitter religiously to share and gain information, this is all very exciting. When people are even talking about the #TwitterIPO on Twitter, how can it not be?
With Facebook the IPO was hyped up by the company itself with scenarios of potential growth in revenues from all the social advertising. Indeed Facebook had a lot more users (845 billion at the time of IPO) to Twitter's current 215 million current monthly active users. Twitter's hype has come from outside, but with a note of caution.
Yes, Twitter tripled its revenue last year to $317 million and first half revenue for this year is more than double $254 million from the same time last year, it still isn't profitable. Although the net losses have gone down 38% and the march towards profitability was on schedule, the net losses increased by 41% due to a range of acquisitions. Considering that Facebook was profitable for all the three years prior to its IPO and you know why Twitter is being cautious.
Even though Facebook crashed down to a low of $18 from its IPO price of $38, it's now trading at around $52. So investors looking for a quick buck would be showing caution from the lessons learned with the last social media giant IPO in 2012.
Facebook also has a history of advertisements since its inception in 2004, while Twitter has only introduced its first advertisement product "Promoted Tweets" in the summer of 2010. Facebook is also more visual. But Twitter's strength is on mobile, and mobile is on the rise. Twitter has 2/3 of its revenue coming from mobile when, Facebook had none at the time of IPO and currently standing at 40% of all of its revenues.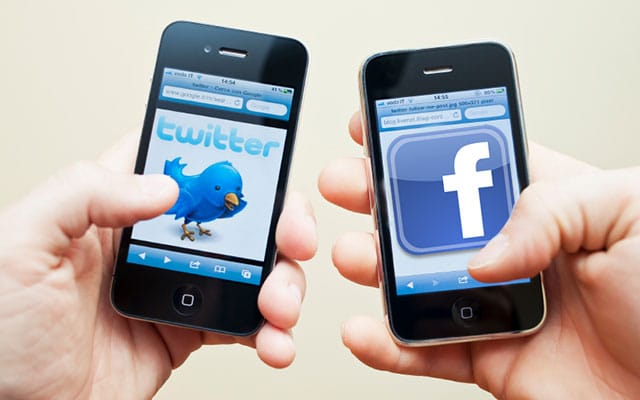 The ownership structures are also very different. Mark Zuckerberg, Facebook's founder and CEO still own and controls the company with 57% or its holdings. Twitter has no controlling shareholder with its largest shareholder being co-founder and former CEO, Evan Williams with a 12% stake, while Chairman Jack Dorsey has 4.9%.
Facebook gives you the ability to build a closed network among your peers. Twitter is more open and anonymous where users feel free to tweet their thoughts without facing repercussions from friends, family or coworkers.
Twitter's advantage is its medium of communication being more real-time. With celebrities tweeting snippets of their lives as they happen and news sources and journalists breaking news as it happens in 140 characters, twitter is the source for live updates when it comes to social media. There is growth potential in this area and here lies the risk for Twitter as well.
It has no patent on its technology 'cause let's face it, it doesn't require rocket science to make a platform to write a short sentence or post a picture. The 140 character limit is the big thing. The real risk is that anyone can create competition with a website that's better looking and gives away a better vibe. We've all thought of it in some form or the other. Don't say you haven't!
It'll be interesting to see if investors opt for a less centrally controlled ownership model of Twitter or will show caution after their experience with Facebook. At Ephlux we strive to build and design awesome social apps as well as those that are mobile. We'll sure be looking with interest when Twitter goes public.